"Pregnancy resource centers…should be widely recognized for the critical work they do, not slandered for their efforts to preserve and protect life." – Rep. Kate Klunk (R-York)
Series: The State of Abortion in PA
1. Post-Roe Pennsylvania
2. Taxpayer-Funded Planned Parenthood in PA
3. Pregnancy Resource Centers: Essential for PA Families
4. Ways to celebrate Roe's overturn
On June 7, 2023, directors of several pregnancy resource centers in Pennsylvania, along with several families whom they've served, shared testimony during a hearing held by the PA House Republican Policy Committee to help highlight the critical life-affirming services being offered to thousands of families across the Commonwealth.
In recent months, state legislative attacks on these pregnancy centers have increased, with numerous hearings in Harrisburg attempting to smear their work, all backed by the abortion lobby that wants to shut these pro-life facilities down.
Essential Work
Rep. Josh Kail (R-Beaver), as committee chairman, drew attention at the start of the hearing towards "bringing hope to struggling families" and quoted former PA Gov. Bob Casey, Sr., who once said, "pregnancy resource centers, and the services they provide, help to fight the poison of hopelessness with love."
This recent two-hour hearing was convened by Rep. Kate Klunk (R-York) and Rep. Paul Schemel (R-Franklin) to discuss the services provided by pregnancy resource centers and support available for parenting Pennsylvanians.
Two directors of pregnancy resource centers shared testimony during this hearing. "Our mission is to be transformational," stated Amy Scheuring, executive director for Women's Choice Network in the Pittsburgh region. "Every human person is valuable, has purpose, and is worthy of protection…so when people walk into our doors, they're accepted, loved, and given hope, regardless of where they are in life."
Jill Hartman, executive director of A Woman's Concern in Lancaster, was quick to point out the variety of services provided free-of-charge to clients, as well as pushing back on the abortion industry that is trying to mislead others about their work. "Low income women who choose to parent deserve support."
Pregnancy Help for Thousands
In Pennsylvania, pregnancy resource centers outnumber abortion clinics nine-to-one! While there are three abortion facilities that have opened in Pennsylvania in recent years, bringing the state's total to 18 abortion facilities, there are around 160 pregnancy resource centers in Pennsylvania helping families support their unborn child.
Pregnancy resource centers serve tens of thousands of families in Pennsylvania every year. In 2019, pregnancy help was given to over 60,000 young women, men, and their babies through pregnancy resource centers, with over $5.6 million in resources, diapers, formula, classes, and more!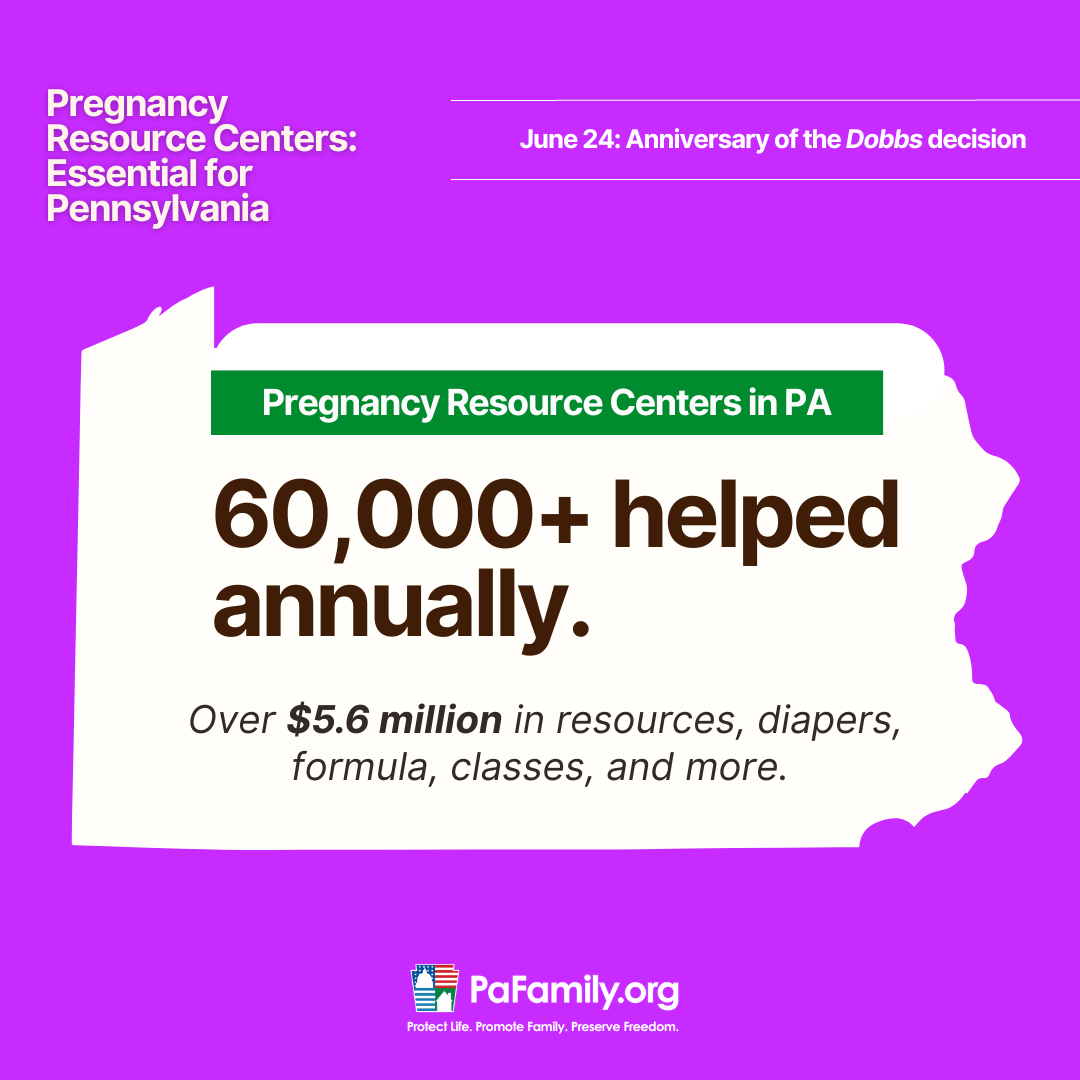 In just one year (2019), these estimated totals included:
Over 91,000 baby items. (31,259 free packs of diapers,13,168 free packs of baby wipes, 45,318 free new & used baby clothes outfits, 562 free new car seats, and 716 free new and used strollers.)
Over 6,500 clients received parenting education.
Over 10,000 STD/STI tests performed.
Over 9,000 ultrasounds performed by registered nurses or medical sonographers.
These resources and services provided by pregnancy resource centers are helping to empower women and families every day.
Increased Attacks
Since the overturn of Roe and Casey, there have been over 100 attacks on pregnancy centers and pro-life organizations across the country, with nearly a dozen cases in Pennsylvania. Several PA churches have been vandalized, and two pro-life organizations in Philadelphia had windows smashed and graffiti sprayed across their building, causing thousands of dollars in damages.
In Harrisburg, slanderous attacks by some pro-abortion policy makers are mounting, with legislative proposals targeting pro-life pregnancy centers. In September 2022, the PA Senate and House Democratic Policy Committees held a hearing specifically on claims of "deceptive practices of anti-abortion centers."
Not one director of a pregnancy resource center was invited to testify. A letter was written by the Pennsylvania Life Exchange – which represents many pregnancy centers – addressing this omission. "From 2016-2020, pro-life pregnancy centers nationwide partnered with pregnant women who were considering abortion or abortion vulnerable to save more than 800,000 lives," wrote the letter. "Pregnancy Centers are good for Pennsylvania. Pregnancy Centers form a vital network of care for all those who face unplanned pregnancy. These life transforming centers strengthen families and care for the next generation."
A second pro-abortion hearing was held in October 2022 to once again attempt to smear "anti-abortion centers." During this second hearing, an abortion advocate made the claim that pregnancy centers could be connected to terrorists.
One pregnancy center director testified during this second hearing – Sarah Bowen, executive director for Promise of Life Network. "Pregnancy centers exist because every mothers deserves love and support during an unexpected pregnancy."
The pro-abortion lobby is doing more than just hearings to attack pregnancy resource centers. The PA "Women's Health Caucus," or more appropriately, the "Abortion-Until-Birth Caucus," have made taking down pregnancy resource centers as one of their top priorities. Then just this month, taxpayer-funded Planned Parenthood, the state's largest abortion operation, held a lobby day and rally at the Capitol where the very first agenda item spoken was against pregnancy centers. Planned Parenthood is on a mission to shut down every pregnancy center in Pennsylvania, stating, "We want Pennsylvania and our country free of [pregnancy resource] centers."
This is an assault not only on pregnancy resource centers that provide essential services but upon the tens of thousands of women and families they serve.
Taxpayer-Funding
Pennsylvania uses tax dollars to fund two programs related to "reproductive health" – "Family Planning" and "Pennsylvania Pregnancy and Parenting Support Services Program," also called "Pennsylvania's Alternatives to Abortion."
For family planning, there are four Family Planning Councils that receive millions in taxpayer-funding annually, which is then distributed to various entities, including abortion facilities. The four Family Planning Councils, which all distribute tax dollars to abortion facilities, are: Access Matters, Adagio Health, Family Planning Council of Central Pennsylvania, and Maternal and Family Health Services.
According to their latest filings, the total amount of annual taxpayer-funding sent to these four family planning councils is over $50 million.
It is current Pennsylvania law that no tax dollars are to be used to fund elective abortions. These abortion facilities like Planned Parenthood are getting around this law by arguing that their abortion activities are physically and financially separate from services that are taxpayer-funded.
The PA Department of Health prepares an annual "Family Planning Audit Report" for the General Assembly to claim "separation of abortion and abortion-related activities from family planning activities."
The fact remains money is fungible and Pennsylvania taxpayers are sending millions every year to abortion businesses like Planned Parenthood.
Now, for the Pennsylvania Pregnancy and Parenting Support Services Program, Real Alternatives administers this program for the PA Department of Human Services. "Real Alternatives, through the Service Providers, offers a comprehensive umbrella of core and support services that provide women direct support during and after the Unexpected Pregnancy."
###
"The combination of medical, educational, and support services pregnancy centers provide in one place, for free, are not provided by other community agencies. In short, they are irreplaceable to the tens of thousands of women who use them." – Pennsylvania Life Exchange
Pregnancy resource centers are essential to Pennsylvania. Please connect and support your local pregnancy resource center. Additional information can be found through the Pennsylvania Life Exchange at PaLifeExchange.com.
For more about Pennsylvania's "alternatives to abortion" program, visit RealAlternatives.org.
Additional Resources