Citizen Action Center
Your voice is needed beyond the ballot box. Your elected officials need to hear from you on important issues! Use this action center to quickly and easily contact them today.
Parents Deserve to Know: Support the Curriculum Transparency Bill
Many parents are shocked to learn about disturbing, inappropriate or activist political materials and messages being taught to their children — after the fact — without their knowledge.
Many public schools make it extremely difficult to review materials. Sometimes it's hard to even know what to ask for. There are also waiting periods, in-person review requirements, and requirements that an employee be taken away from their usual tasks in order to watch a parent review material, among other unnecessarily burdensome limits.
SB 340 would simply allow for parents to easily access what materials are being used to teach their children. SB 340 specifically requires the school districts to post on their website a link to textbook titles, course syllabus, summary of each offered instructional course, and the state academic standards for each course offered by the school.  
Informed parents and guardians drastically improve educational outcomes. Transparency in education benefits students, parents and guardians, teachers, administrators, and in the end, society. Of course, transparency also builds more trust between parents and school districts and it deters those few who may wish to use their government positions to coerce and indoctrinate students with their personal ideologies as well. 
P.S. – Individual school districts can and should pass policies to increase transparency, too. For more information, see https://pafamily.org/parental-rights-curriculum-transparency/ 
Say NO to a Package of Bills that Would Punish Those Who Disagree with Radical Gender Ideology 
Contact your State Representative and State Senator today to oppose House Bills 1024, 1025, 1026, and 1027 – a package of bills from Rep. Dan Frankel (D-Allegheny) that would give government the tools to punish disagreement with radical gender ideology
Click here to email 
Summary
The danger of Rep. Frankel's package of "hate crimes" bills is their ability to silence people – using criminal and civil penalties. Rep. Frankel's bills invite anonymous tips of so-called "hate based intimidation" that could blacklist and demonize those who speak up about human sexuality, marriage, and what it means to be male and female. This could further weaponized our cancel-culture and result in state-sanctioned discrimination.
Let's teach respect, not create more ways to investigate and cancel persons based on their beliefs.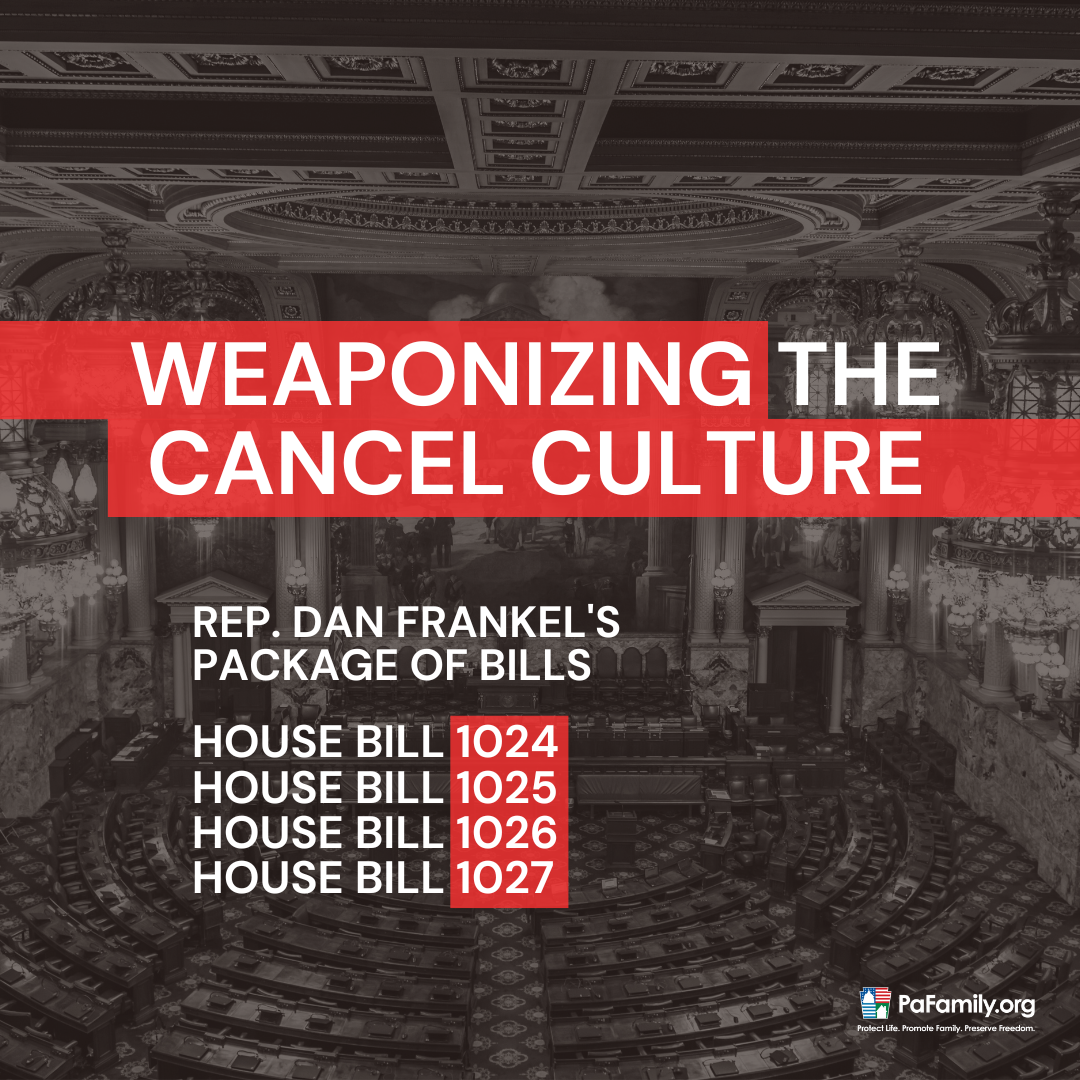 Stop PA Democrats' Abortion-Until-Birth Amendment
Tell your State Representative and State Senator to vote no on this radical push that would open the door to taxpayer funded abortion until the moment of birth.
Click here to email 
Summary
Pennsylvania Democrat lawmakers are pushing a radical abortion bill that not only would permit abortion at any stage in pregnancy but would effectively abolish every current limit and regulation on abortion, including the protection to keep taxpayers from paying for elective abortions.
This Abortion-Until-Birth legislation – which the Democrat sponsors are calling the "Reproductive Rights" Amendment – is a proposed amendment to enshrine abortion in the Pennsylvania Constitution. It would mean the abortion industry could perform an abortion for any reason, at any stage in pregnancy with no state restrictions.
While we need to improve our outdated state laws that currently allow abortion up to six months in pregnancy, we certainly do not want to further sacrifice the well-being of women and girls in Pennsylvania; which is exactly what this abortion bill would do.
Act Now: Tell your State Representative and State Senator to oppose any effort to pass this abortion amendment.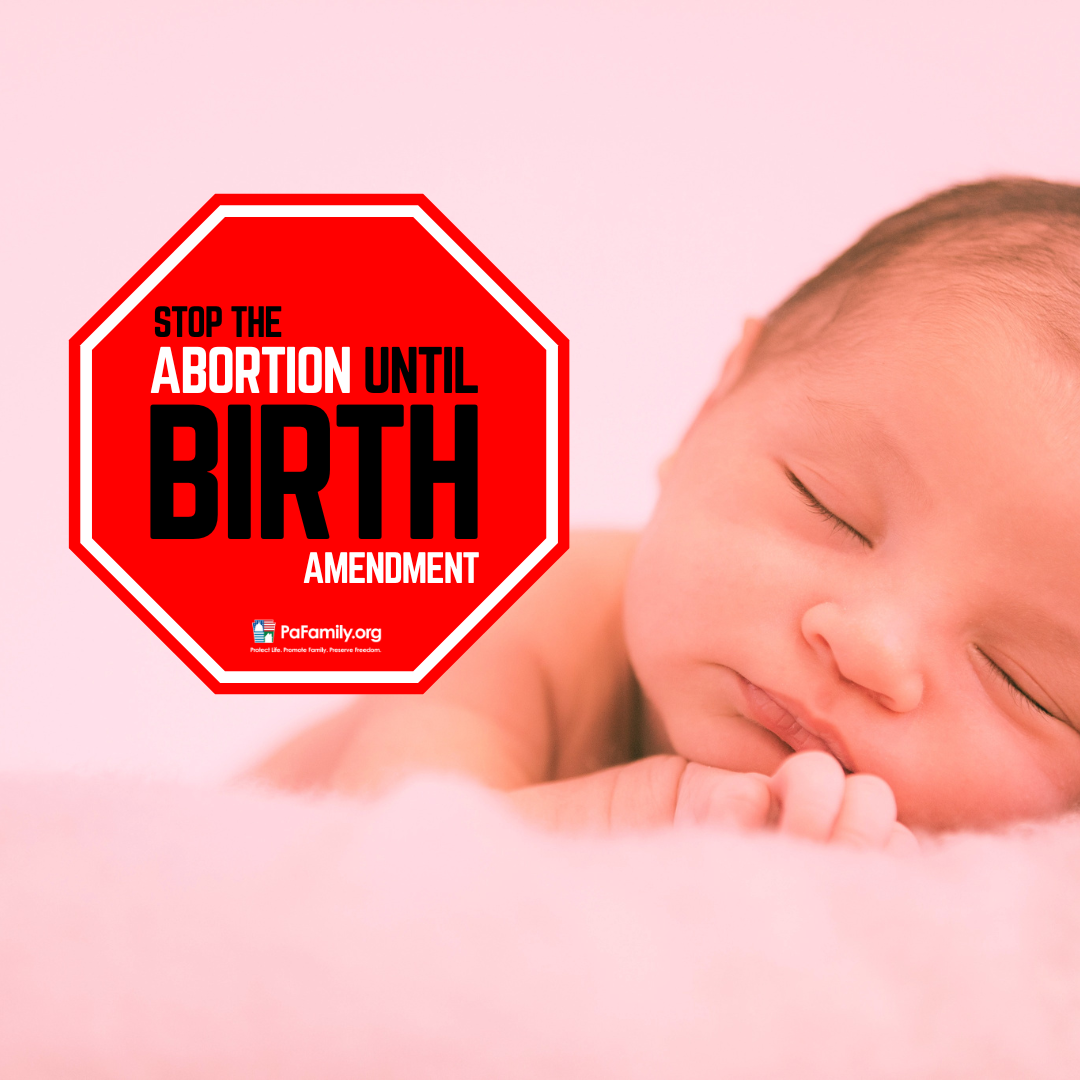 Tell Your State Lawmakers: No Deal on Retail Marijuana in Gov. Shapiro's Budget
Please contact your State Senator and State Representative urging them to oppose any state budget that includes the harmful retail sale of marijuana for non-medical purposes. Pennsylvania needs real budget solutions, not more vices that cause more harm.
Click here to email 
Summary
Marijuana use is harmful, more adults and children are using and becoming addicted, and increasing its accessibility for "recreational" use increases those harms. In states experimenting with the retail sale of marijuana for non-medical use, we're seeing many of these negative consequences, especially with the retail sale of high-potency marijuana products that can be 99% THC.
There is evidence that shows more traffic accidents, more children ending up in the ER and more teen and young adults are using in states that fully legalize. This is especially why medical organizations, addiction treatment centers and law enforcement oppose the legalization of a currently Schedule 1 federal narcotic like marijuana.
No amount of tax "revenue" is worth the sacrifice of our children and communities, and the push for legalization neglects the real costs incurred with such action. In Colorado, one analysis found $4.50 in costs for every $1 brought in by tax revenue.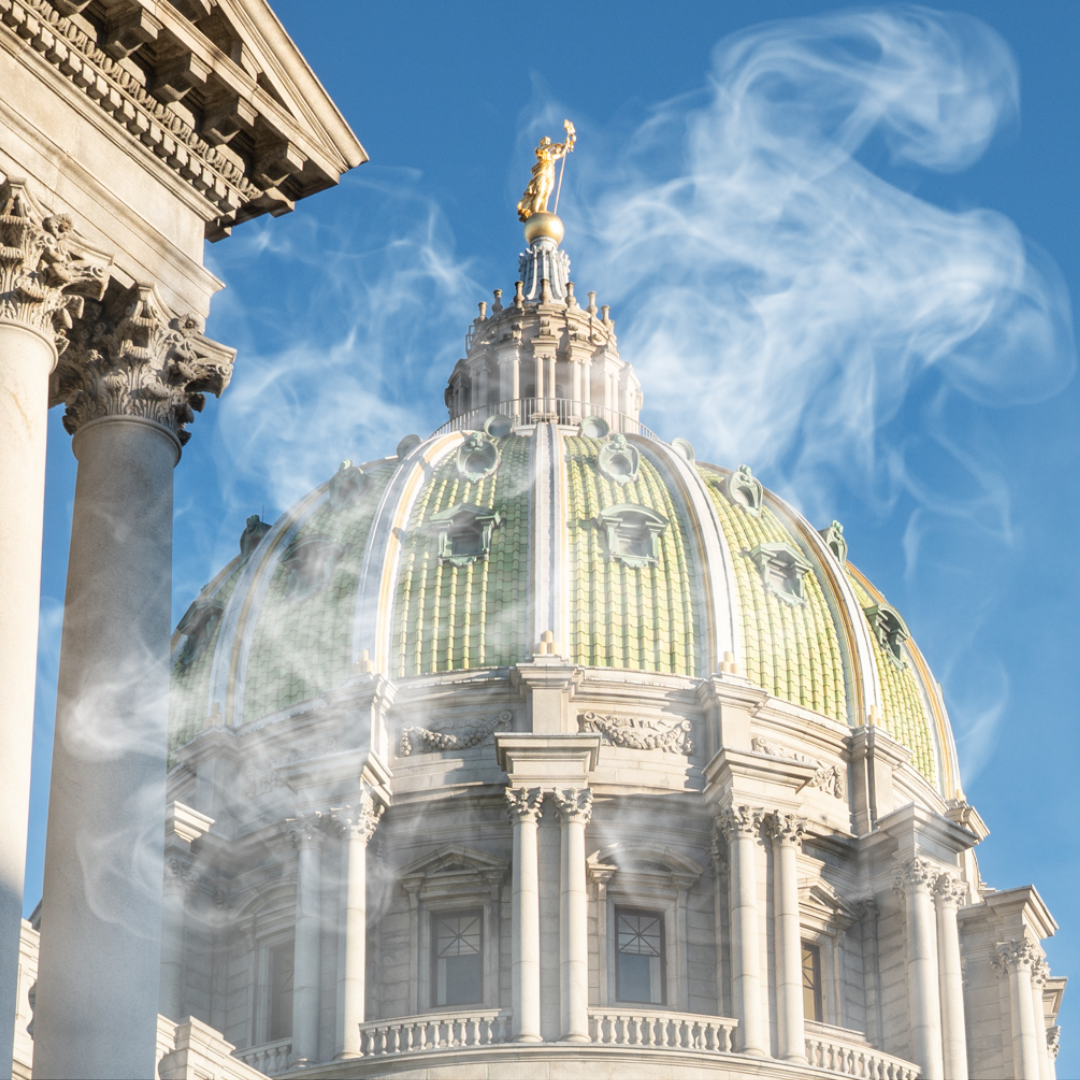 Support the Lifeline Scholarships and Fund Students, Not Systems
Help students in struggling schools by asking your State Representative and State Senator to support Lifeline Scholarship Accounts. 
Click here to email 
Summary
Upcoming legislation would make Lifeline Scholarships available to children who live in failing school zones. This scholarship would be an absolute game changer for families in Harrisburg, Pittsburgh, Philadelphia, and elsewhere in Pennsylvania where school districts fall in the bottom 15 percent of performance metrics based on state testing. 
Students that live within the attendance area of a low-achieving school deserve access to the educational alternatives like Lifeline Scholarship Accounts. It could be used toward tuition, fees, and textbooks.
Lifeline Scholarship Accounts would directly fund students, helping families with children in the lowest-rated school districts choose a school where that child can thrive educationally. There is built-in accountability because we know that ultimately parents know which schools best serve the needs of their children. Parents have the right to choose where their children attend school and we should empower more parents to provide their child a better solution for success in education.