Series: The State of Abortion in PA
1. Post-Roe Pennsylvania
2. Taxpayer-Funded Planned Parenthood in PA
3. Pregnancy Resource Centers: Essential for PA Families
4. Ways to celebrate Roe's overturn
Saturday, June 24th will mark the first anniversary of the Dobbs decision by the U.S. Supreme Court that overturned the awful Roe v Wade and Planned Parenthood v Casey cases. "The Constitution does not confer a right to abortion; Roe and Casey are overruled; and the authority to regulate abortion is returned to the people and their elected representatives," as stated in this landmark court decision.
Throughout the month of June, PA Family will share a series of posts to help give you a better understanding of how the Dobbs decision has impacted Pennsylvania, what the pro-life community is facing in our state, and ways to celebrate this historic first anniversary.
First, we answer questions related to the impact abortion is having on Pennsylvania communities and how the overturn of Roe and Casey influenced our Commonwealth.
Q: How many abortions happen in Pennsylvania?
The latest annual report from the Pennsylvania Department of Health (PADOH) is from 2021, which reported 33,206 total abortions. This amounts to 91 abortions every day. It also marked the fourth consecutive year in which annual abortions increased in Pennsylvania – up 10% since 2017 (which is more than 3,000 abortions annually).
Q: Have there been more abortions in Pennsylvania since Roe was overturned?
While the 2022 PADOH abortion report will not come out until this December, there are requirements on abortion facilities, in accordance with the Pennsylvania Abortion Control Act, to report how many abortions they performed each quarter.
According to these quarterly reports (which is a different source than what the state uses for their annual reports), there was a 4% increase in the total number of abortions in Pennsylvania from 2021 to 2022. This increase amounted to around 1,200 more abortions.
By abortion facility, here are the 2022 total abortions, with the percentage change from their 2021 totals.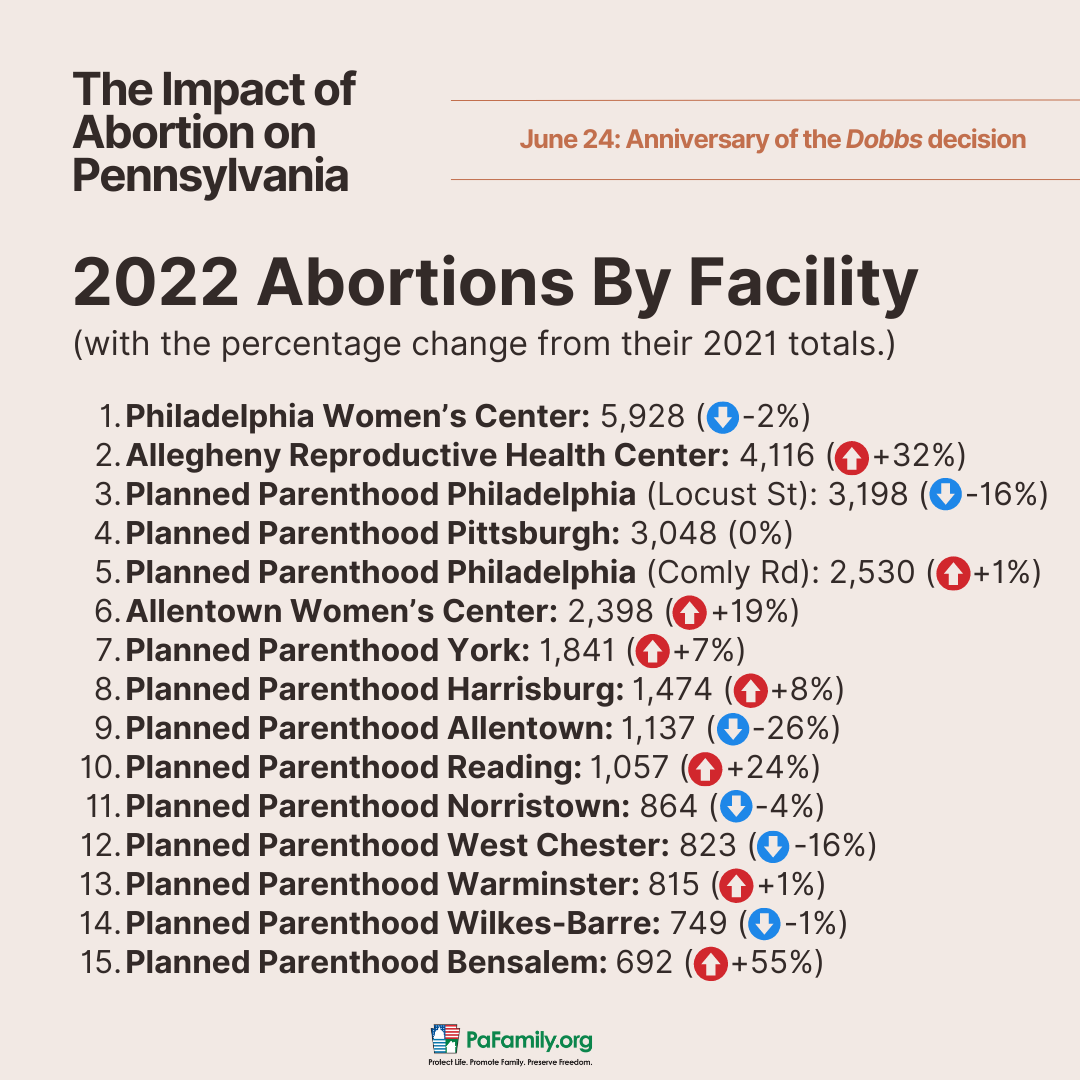 For abortions performed in Western Pennsylvania, there is evidence that shows more abortions took place after the Dobbs decision. The two largest abortion businesses in the Pittsburgh region, Planned Parenthood Pittsburgh and Allegheny Reproductive Health Center, carried out more abortions in the 3rd quarter of 2022 than any other quarter for 2021 or 2022. (Note: Planned Parenthood Pittsburgh performed the same number of abortions in 2021 as in 2022, while Allegheny Reproductive Health Center performed over 1,000 more abortions total over the same time period.)
In addition to abortion facilities, a troubling trend is seeing an increase in abortions performed at hospitals in Pennsylvania. Collectively, while PA hospitals only comprised 7% of the total number of abortions in 2022, they had a 35% increase in abortions performed compared to the previous year – more than 600 more abortions.
Here are totals for hospitals that performed the most abortions in 2022, all of which had a significant increase from the previous year.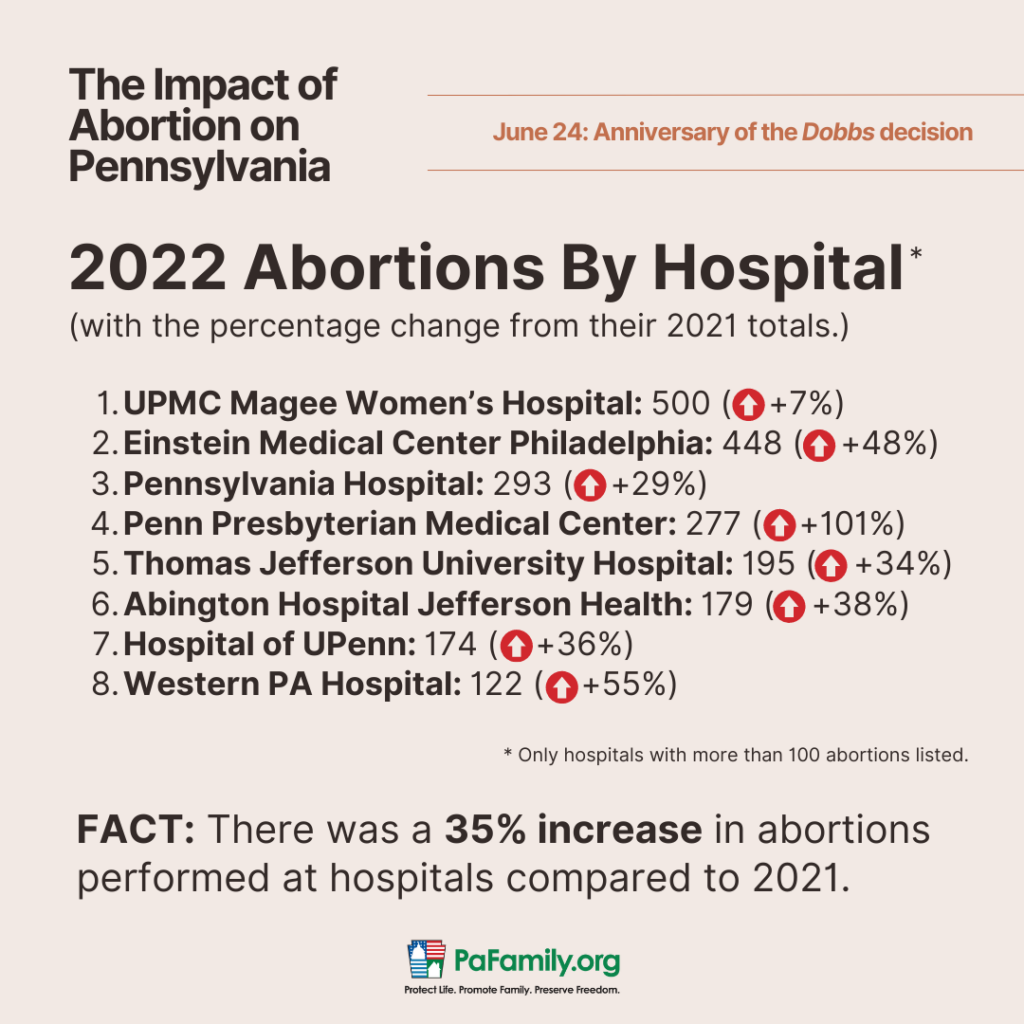 UPMC-Magee, which performs more abortions than any other hospital in the state, had a 7% increase in annual abortions (though there was no visible spike post-Roe).
Every year, there are abortions performed in Pennsylvania on women from neighboring states. Recent state reports show about 7% of Pennsylvania's annual abortions are on non-PA residents. Was there an increase in non-residents seeking abortions in PA post-Roe? We will have to wait until the PADOH report comes out this December to find out definitively.
While there is some evidence of an increase in abortions after the overturn of Roe and Casey, there is also evidence from two neighboring states, Ohio and West Virginia, that shows stronger pro-life limits save lives. Ohio's state heartbeat law went into effect for several months after the Dobbs decision, limiting abortions to around the first six weeks in pregnancy. Reports have shown their monthly abortion rate dropped by over 50 percent, from 2,000 monthly abortions down to 850. Sadly, since September of last year, a court challenge has blocked enforcement of this state law, keeping Ohio's abortion limit at 22 weeks in pregnancy.
In West Virginia, the state legislature passed a near total ban on abortions in 2022. A court challenge by the state's only abortion facility was dropped earlier this year, so this law remains in effect. In 2021, there were 1,374 abortions reported in West Virginia.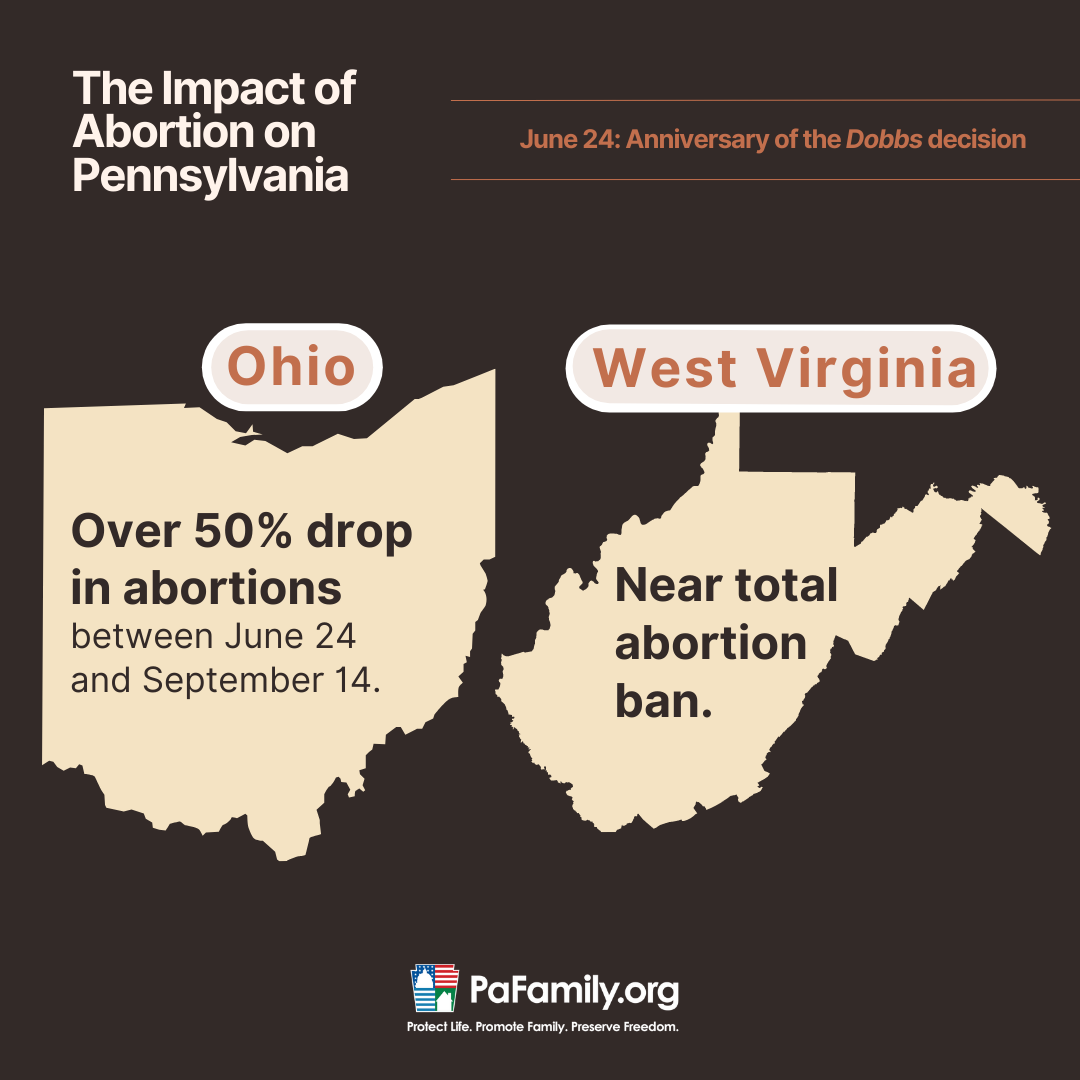 Q: How many abortion facilities are in Pennsylvania?
There are currently 18 abortion facilities in Pennsylvania. The majority (13) are run by the largest abortion business in the country, Planned Parenthood.
Between 2011 and 2019, nine abortion facilities and fifteen Planned Parenthood "feeder" clinics (did not profit from on-site abortions) closed in Pennsylvania.
Since 2019, coinciding with the steady rise in the number of abortions performed in Pennsylvania, Planned Parenthood has opened three abortion facilities, located in Bensalem, Wilkes-Barre and Lancaster.
Seven of these abortion facilities failed a health inspection in 2022, including Philadelphia Women's Center, Allegheny Reproductive Health Center and both Philadelphia Planned Parenthoods.
These facilities – especially new locations – are using telemedicine to expand their abortion profits. Pennsylvania currently permits abortion facilities to forgo in-person consultations and allow abortion pills to be sent through the mail, putting women at even greater health risk.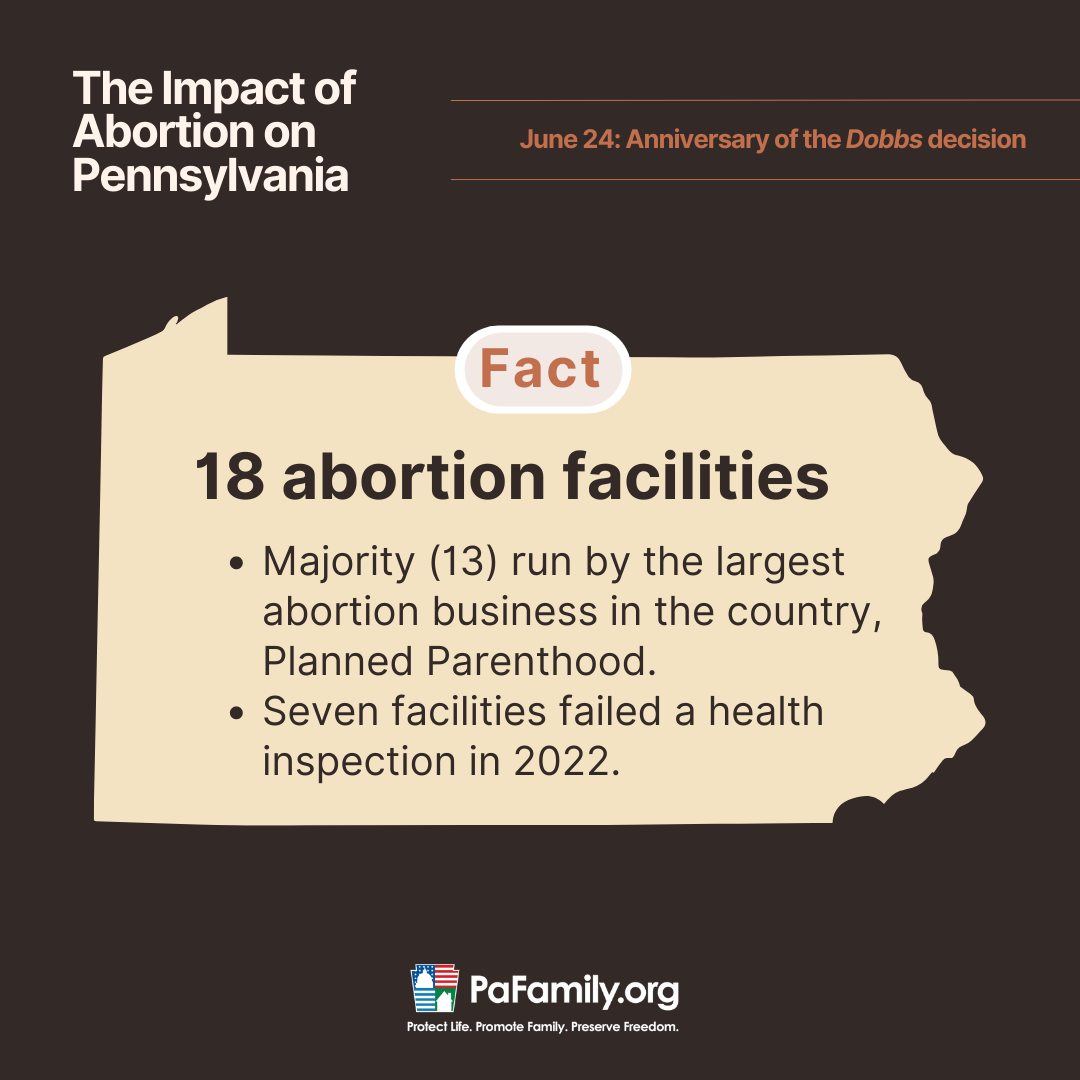 Q: How many abortions occur after the first trimester in Pennsylvania?
Pennsylvania state law still permits abortion up to six months in pregnancy (24 weeks), along with several exceptions.
Comparing the previous two years, later-term abortions increased in Pennsylvania. According to the quarterly facilities reports, Pennsylvania carried out over 2,300 abortions performed at 15 weeks or later in pregnancy in 2022, an 18% increase from 2021.
Performing the most abortions at this late stage were the following: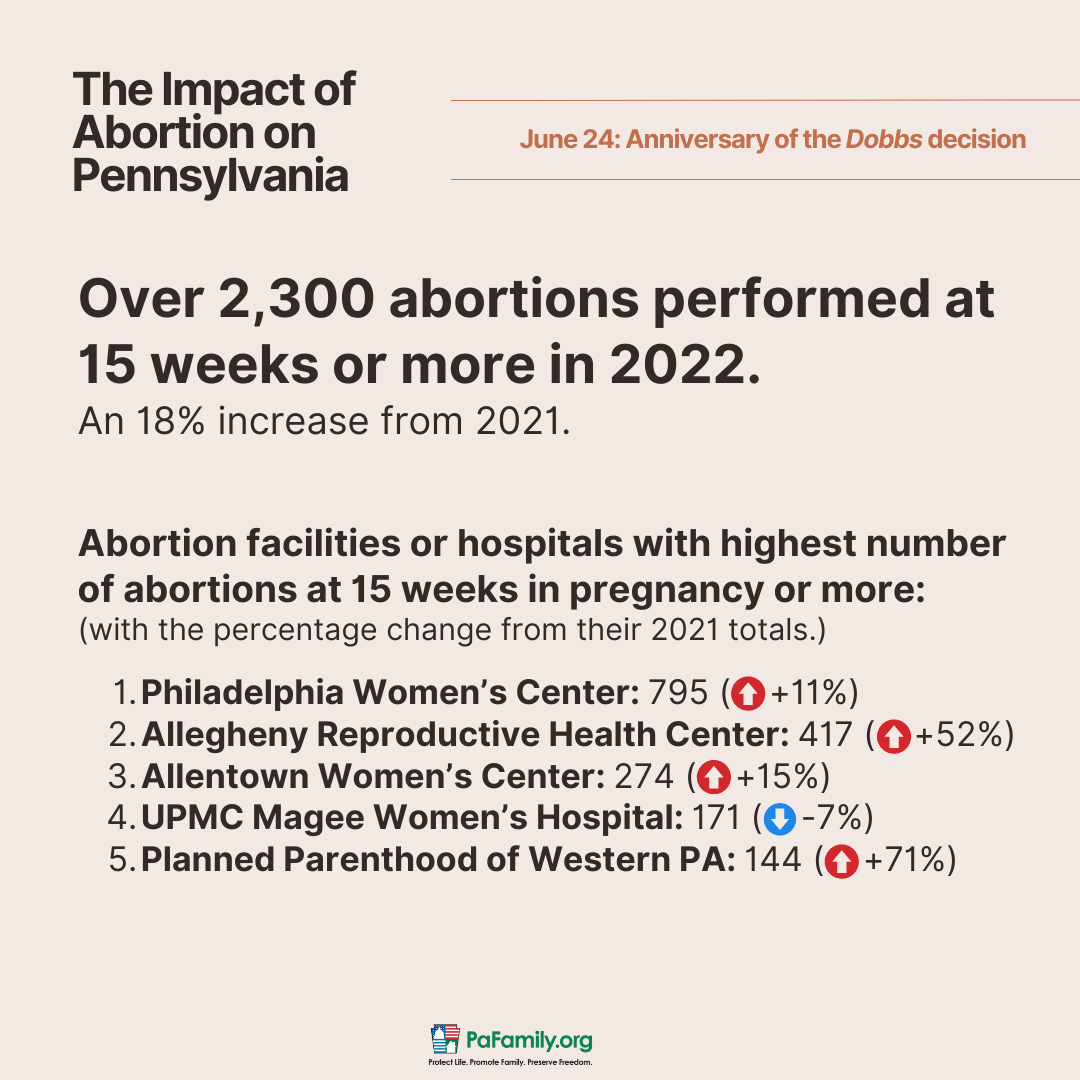 Hundreds of babies are aborted after five months in pregnancy every year in PA. This would have been prevented had Gov. Tom Wolf, a former Planned Parenthood escort, had not vetoed a 2017 bill to update our state abortion limit to five months in pregnancy.
Q: How many chemical abortions happen in Pennsylvania compared to surgical abortions?
Chemical abortions have been on the rise, both in Pennsylvania and across the country. The 2021 state report revealed chemical abortions comprised more than half (55%) of the annual abortions – a record high.
While chemical abortions are increasing, the number of reported complications from abortions are increasing in Pennsylvania as well. There were over 300 reported complications from abortion in 2021, a 34% increase from the previous year. That is double the number of complications from just four years prior and the highest amount of complications recorded in decades.
Abortion pills are not safe. Nationally, Mifepristone has been associated with dozens of deaths and hundreds of life-threatening complications that we know of. That number could be higher due to weak federal and state reporting requirements.
###
These realities are sobering. These "statistics" represent lives lost through abortion. Since 1973, Pennsylvania has been responsible for performing over two million abortions. That's more than the populations of Philadelphia and Pittsburgh combined.
But there is reason for hope. The overturn of Roe and Casey has provided new opportunities to see more lives saved from abortion and to ultimately see abortion as an unthinkable option.
More lives are being saved across the country as a result of the Dobbs decision. One report, by a pro-abortion organization, found that since the SCOTUS decision, "compared to the average monthly number of abortions observed in the pre-Dobbs period, there were 32,260 cumulative fewer abortions from July to December [2022]."
For perspective, that six-month total of fewer abortions matches the average yearly total of abortions performed in Pennsylvania. Tens of thousands of lives may be saved already post-Roe.
May we continue to work towards advancing these opportunities in Pennsylvania.