With his veto pen, Gov. Wolf signs off on the continued killing of unborn babies every day by late-term and dismemberment abortion

.
HARRISBURG, PA – December 18, 2017 – Governor Tom Wolf today vetoed important legislation – Senate Bill 3 – that would have made humane, 21st century updates to Pennsylvania's 28-year-old abortion law.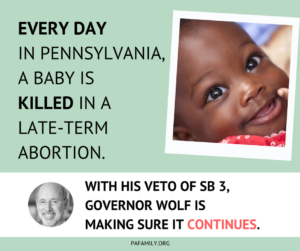 In a bipartisan vote last week, the PA House passed SB 3 by a 121-70 margin, following the Senate's overwhelming passage of the bill earlier this year.  It's no wonder the bill had such broad support in the General Assembly, given the aims of the legislation.
SB 3 changes the legal limit for late-term abortions from the current 24 weeks (or six-months of pregnancy) to 20 weeks (five months of pregnancy), a time when the unborn child clearly feels pain. Currently, the United States is one of only seven nations that permits elective abortions past 20 weeks, putting us in the company of human-rights violators North Korea and China.
"Pennsylvania is better than that," said Michael Geer, President of the Pennsylvania Family Institute. "And yet, we have a Governor who proudly celebrates the work of an abortion industry that relentlessly resists any and all humane efforts to protect unborn children — even those seconds and inches away from birth."
SB 3 would also end the brutal practice of dismemberment abortion. "It's hard for me to comprehend children being intentionally ripped apart – literally – in the womb while our finest Children's Hospitals are providing anesthesia and life-saving surgeries to babies in the womb," says Randall Wenger, Chief Counsel of Pennsylvania Family Institute.
"Governor Wolf is putting his extreme abortion views on full display," commented Geer.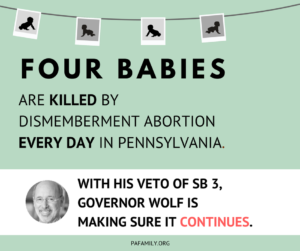 The governor's veto is sad but unsurprising since he has been campaigning alongside Pennsylvania's leading abortion business – Planned Parenthood – a group that opposes any reasonable updates to abortion limits. Planned Parenthood is spending record amounts of political money on behalf of Governor Wolf, who for months has been touring their abortion businesses and holding photo-ops.
After Governor Wolf's veto, Pennsylvania will now continue to kill one baby in a late-term abortion every day and four babies by dismemberment abortions every day. The latest abortion statistics report from the PA Department of Health shows there were 380 late-term abortions (between the 21st-23rd week of pregnancy) and 1,588 dismemberment abortions (or Dilation & Evacuation abortions) in 2015.