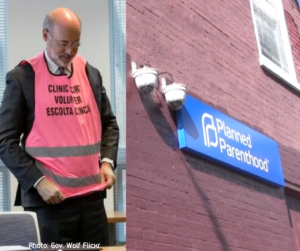 Governor Tom Wolf just claimed it "devastating" for federal family planning funding to be directed to health centers that do not perform abortions and said he would "do everything I can to protect PA from this plan."
Abortion is not health care and taxpayers should not be forced to fund organizations that perform abortions. There are several reasons Pennsylvania elected officials should be protecting citizens from the largest abortion provider in the state:
Fact #1: Planned Parenthood has failed nearly half of their Pennsylvania state health inspections since 2017
.
Since 2017, Planned Parenthood surgical abortion locations in Pennsylvania failed

14 of the 30 health inspections

, according to the PA Department of Health.

Planned Parenthood Warminster failed their last four health inspections, including repeat deficiencies.

Planned Parenthood Allentown facility failed three of their last four health inspections.

Failures included no registered nurse in the recovery room, expired surgical materials and not submitting reports to the Department when a botched abortion occurred.

Planned Parenthood Philadelphia (Locust Street) failed

55% of their last 20 health inspections

.

Failures included lack of reporting child sex abuse, improper storage of aborted babies, lack of anesthesia services procedures and no background checks on employees.

Planned Parenthood fought hard against the 2011 Pennsylvania bill to classify surgical abortion facilities under ambulatory surgical center standards, which included mandatory safety inspections, claiming it "dangerous," "cruel" and "burdensome."
Fact #2: Planned Parenthood has covered up child sex abuse in Pennsylvania.
In 2013, the PA Department of Health found Planned Parenthood in Philadelphia "failed to ascertain" if several minors had been a victim of a crime. Sexual intercourse with a child less than 13 years of age is always a crime without regard to the age or relationship of the offender. For a child less than 16 years of age, it is a crime if the offender is four or more years older than the child, and the child and offender are not married to each other.

Planned Parenthood had several female patients between 13-16 years of age yet failed to show any evidence that they determined the age of their sexual partner or reported anything to authorities.

Live Action recently highlighted this failure as part of a new docuseries exposing Planned Parenthood's help of sexual predators nationwide.
Fact #3: Planned Parenthood is in the business of ending life
.
Planned Parenthood performs 880 abortions across America every day, which would wipe out the entire population of Pittsburgh every year.

That includes 42 abortions every day in Pennsylvania, totaling half of the 30,000+ statewide abortions every year at the hands of Planned Parenthood.