There is a renewed push for harmful legislation here in Pennsylvania. Unfortunately, 18 State Senators and 74 State Representatives are cosponsors to legislation with dangerous consequences to your religious freedom and privacy rights – Senate Bill 613 & House Bill 1410.
That's more than one third of both the State House and State Senate sponsoring a bill jeopardizing your fundamental freedoms. That is too close for such problematic legislation.
Here are two ways you can help:
Contact your State Senator and State Representative about the harms of SB 613 & HB 1410?
Utilize our free eBook [more below] to share and defend against this dangerous legislation?
1. Take Action
Please contact your State Senator and State Representative and tell them to oppose SB 613 and HB 1410. We've made it easy to email both through our Citizen Action Center. 
2. Free eBook
There have been misunderstandings circulating about on this legislation that we want to help resolve, which is why we have created an eBook containing valuable facts and insights to help inform and educate on SB 613 and HB 1410.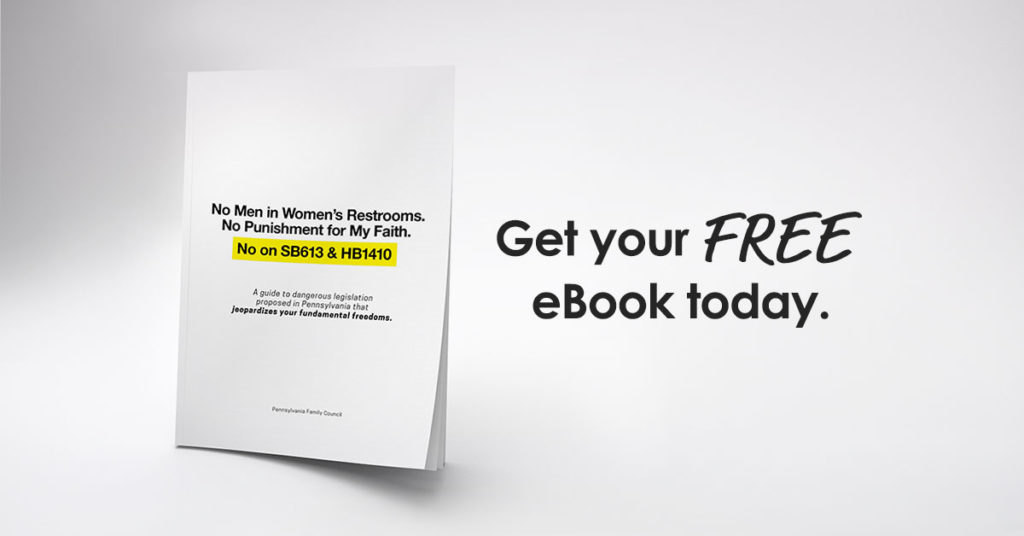 Ironically, not only would SB613 and HB1410 jeopardize your fundamental freedoms but it would also add the following line to our existing law:
Public policies, reflecting an open and welcoming environment and ensuring equal opportunity, foster economic growth and prosperity which benefit the inhabitants of this Commonwealth.
Public policies that are truly "open" and "welcoming" would provide space for all people to live and work in the public square according to their conscience. But SB 613 and HB 1410 would do the exact opposite, potentially treating good people as enemies of the state.
What you'll find in this new eBook:
See what's happening around the country when states pass laws like the proposed SB613 and HB1410.
What one PA State Senator says should happen to a private school here in Pennsylvania.
How SB613 and HB1410 would affect bathrooms, locker rooms and shower facilities.