Governor Tom Wolf claimed in an email to supporters that Planned Parenthood provides prenatal services – which is just flat out false. Planned Parenthood tries to make this claim as well which is why PA Family Institute called all 27* Planned Parenthood facilities in Pennsylvania and asked, "Do you offer prenatal services?"**
We found that not one Planned Parenthood facility in Pennsylvania provides prenatal services.
"No Planned Parenthood does prenatal care." – Pottstown Planned Parenthood
"We don't do prenatal care here." – Coatesville Planned Parenthood
"We do not offer prenatal care at Planned Parenthood." – Philadelphia Planned Parenthood
"No, unfortunately, we do not offer prenatal services at this time." – Stroudsburg Planned Parenthood
Each Planned Parenthood facility in PA had listed "prenatal" as a service on their online booking website. When we exposed this false claim, they removed it from their website. This is what their website looked like prior to our calls: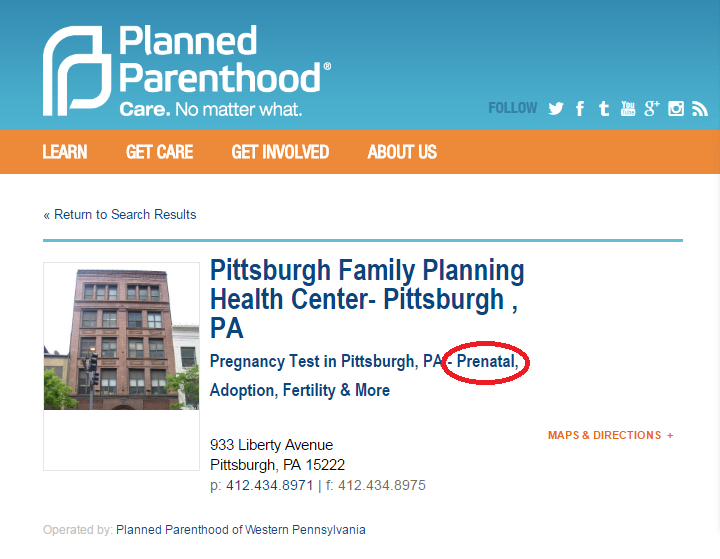 TAKE ACTION
Planned Parenthood is a bad investment for PA taxpayers. There are better options that provide more comprehensive women's health services that include services like prenatal care. That's why Pennsylvania needs SB300. Contact your State Senator in support of SB300 today.
* Planned Parenthood closed their Easton and Bristol locations in March 2017. There are now only 25 Planned Parenthood facilities in PA.
** Calls were made on January 25-26, 2017. For more insight, get your free copy of PA Family Institute's report, "Extreme: Planned Parenthood in Pennsylvania," at pafamily.org/extreme.