How did your State Senator and State Representative vote? See roll call below.
It started as a simple bill to create 1-800-GAMBLER as the one number in PA to call for gambling help. It's now a law adding more casinos and just about every gambling option a state can sponsor.
Governor Wolf has signed House Bill 271 into law, a bill that was hastily passed within 24 hours in the General Assembly that now causes all kinds of problems for Pennsylvania families.
"It is terrible fiscal policy that doesn't address the state's long-term fiscal health." (Philadelphia Inquirer)
"If you pass this bill, you will see an explosion of gambling in Pennsylvania like you've never seen before." (Representative Scott Petri)
"Corporate welfare for casinos and special carve outs for special people." (Representative Margo Davidson)
The 939-page bill was passed within 24 hours in both chambers. After passing the Senate on Wednesday evening, with hundreds of pages of new policy proposals, the PA House actually voted down a measure to delay the bill in order to read through it. Making matters worse, session weeks usually end Wednesday but when 11pm hit Wednesday night, they actually called a special session day for Thursday morning to finish items, where they voted to pass this massive gambling expansion.
This law is unlike what any state has ever passed:
1) SATELLITE CASINOS – Adding an additional 10 casinos with up to 750 slot machines and 30 tables games at each new casino.
2) "CRACK COCAINE OF GAMBLING" – VIDEO GAMING TERMINALS (VGT) – Up to five VGTs at any qualifying truck stops (ones that have a convenience store).
3) ONLINE GAMBLING – State-sponsored casino-style gambling websites. Only three states New Jersey, Delaware and Nevada — allow online casino gambling.
4) LOTTERY – The state can now offer keno gambling, online games and online sales for existing lottery options. Only four states — Georgia, Illinois, Kentucky and Michigan — allow online lottery play.
5) AIRPORT GAMBLING – Opens state-sponsored gambling parlors at airport terminals. Only Nevada and Puerto Rico allow airport gambling.
6) SPORTS BETTING – Should it become legal (there is an ongoing federal lawsuit to determine its legality), the state will sponsor sports betting both at casinos and online.
7) CASINO OWNERSHIP – It repeals a 2004 provision that limited casino ownership to only one controlling stakeholder. This in all likelihood paves the way for the construction of another Philadelphia casino.
Below is the roll call from the State Senate and House votes for this unprecedented gambling expansion law (HB 271). First, in the PA Senate: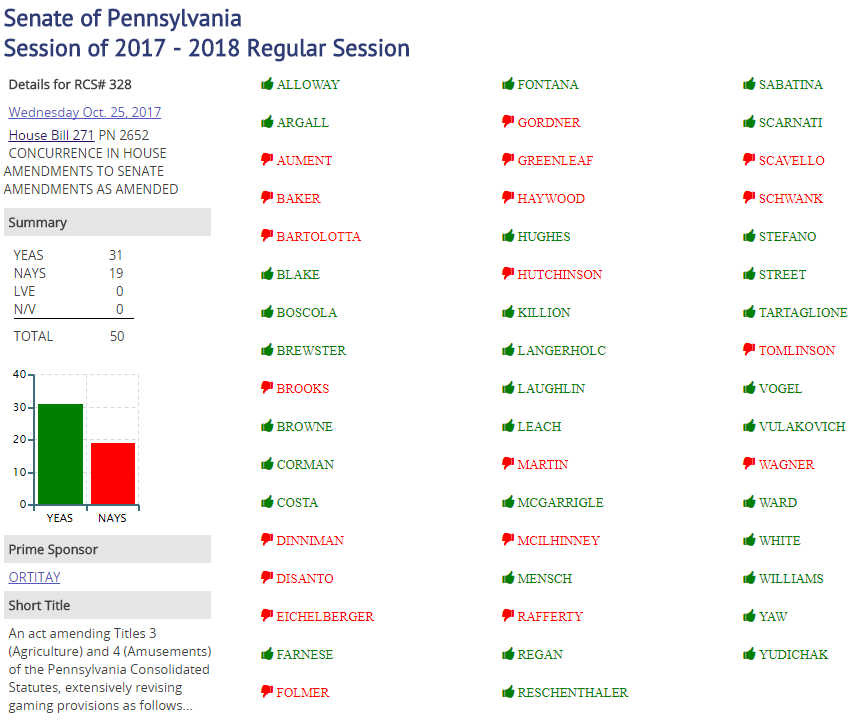 And here's the roll call for the PA House of Representatives: