In a victory for student rights and Constitutional freedoms, a Pennsylvania school district in the national spotlight has sided with honoring any student's right to speak out and assemble on public sidewalks.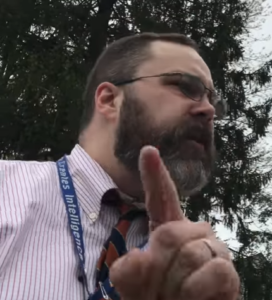 Two teenagers stood on the public sidewalk outside of the Downingtown Area School District STEM academy to expose the holocaust of abortion and to engage students with the Gospel of Jesus Christ. They were approached by the assistant principal who proceeded to intimidate them and use foul language in ordering them to stop speaking. This school official also attempted to take some of the three signs they had present. The confrontation was captured on video. Caution: strong language.
The two students involved were recently guests on Fox News with Tucker Carlson. As one of the students said, "our goal with being out there was to engage with students about the gospel of Jesus Christ…and also about abortion."
After this confrontation,
a letter
 was sent by the two students with the assistance of the Alliance Defending Freedom and Randall Wenger, Chief Counsel for the
Independence Law Center
, serving as their local counsel.
After the video went viral, the school issued the following release:
"This school district will not interfere with the rights of anyone to express themselves, as those US Constitutional 1st Amendment rights are established in law. The Downingtown Area School District has policies that comply with all legal requirements, including compliance with the First Amendment. The two demonstrators had a right to be on a public sidewalk and a legal right to speak there as well."
To read the school's full statement, click here.
Independence Law Center is a Pennsylvania-based pro-bono legal organization engaging the culture war, especially the place of religion in society, First Amendment rights, and traditional values. To make a secure, online donation to support Independence Law Center, click here.