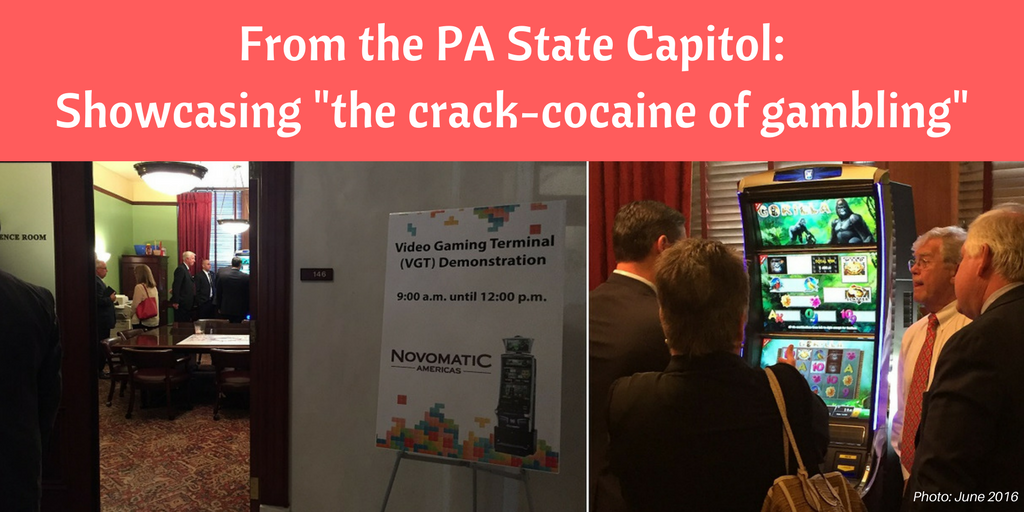 State officials in Harrisburg are considering the addition of state-sponsored video gambling in local businesses throughout Pennsylvania, either as part of the budget process or in a yet-to-be introduced Senate bill.
Here are 11 reasons why this is a bad mix:
Video Gaming Terminals (VGT) would place a casino in virtually every community statewide, potentially offering round-the-clock access just minutes from home.

Video gambling is often referred to as the "crack cocaine of gambling" because of its addictive and unparalleled speed of play.

"These are the most addictive of any gambling instrument we have today."

– Professor William Thompson, University of Nevada, Las Vegas

The prevalence of VGTs has

accelerated addiction

.

It lacks the self-exclusion system that currently governs Pennsylvania casinos. In Oregon, the number of Gamblers Anonymous chapters increased 1,000% within five years of introducing video poker machines.

"The

hidden costs

are huge. Bankruptcy, divorce, embezzlement, fraud, robbery."

It would place these highly-addictive machines in local businesses that focus on the sale of alcohol (bars, taverns, etc.).

"Casino slot revenue in Pennsylvania is

estimated to decline

by between $553 million and $674 million compared to what otherwise would be estimated for 2020 in the absence of VGT development."

With an expansion of video gambling into every community creating a decline in casino revenue, the additional fallout would be a decrease in the current casino tax revenues on areas like property taxes as well as a loss in jobs.

Many countries have witnessed the devastation of video gambling and have moved to phase out this addictive form. Switzerland (2005), Norway (2007) and Poland (2009) all banned video slot machines outside of casino locations. Australia estimates gambling cost their society $4.7 billion every year, especially due to

gaming machines

.

The proposal is said to be modeled from policy in

Illinois

passed in 2009. Illinois is currently one of the most bankrupt states in the US, reportedly with

$267 billion in debt

and growing.

Only seven states are involved in non-casino machines. Illinois currently has the most.

Pennsylvania is already the nation's #2 commercial casino state, only behind Nevada.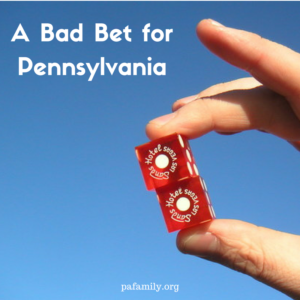 "The link between accessibility of gambling and its harmful effects is strongly policy relevant because governments have the capacity to define the terms of access." – Australian Government Productivity Commission
State government should not be involved with mixing alcohol and gambling across every community in Pennsylvania. Elected officials should be focused on good policy and not meddling with harmful short-term solutions that bring long-term problems.