SB3 aligns with medical advancements and public opinion by ending both late-term abortion and the barbaric practice of dismemberment abortions in Pennsylvania.
Harrisburg, Pa. – Today's vote in the Pennsylvania State Senate to pass SB3 by nearly two-third majority is an encouraging sign to all, as it would bring much-needed improvements to our outdated policies on abortion procedures.
"Pennsylvania Family Institute praises the passage of SB3 because our state's abortion limits and procedures have not been updated in law for nearly 30 years," stated Randall Wenger, Chief Counsel for Pennsylvania Family Institute. "It's hard for me to comprehend children being intentionally ripped apart – literally – in the womb while our finest Children's Hospitals are providing anesthesia and life-saving surgeries to babies at the same age of development."
SB3, championed by Senator Michele Brooks, makes two improvements. First, it ends late-term abortion by moving the abortion limit from the first six months in pregnancy (24 weeks) to the first five months (20 weeks). Second, it stops the use of the barbaric procedure of dismemberment abortion, those abortions that kill a unborn baby by removing its limbs and letting it bleed to death.
Pennsylvania Family Institute appreciates the many comments made in support of SB3 during the Senate debate, including those of Senator Wayne Langerholc, whose daughter was born before 24 weeks and now is a nine-year-old healthy girl.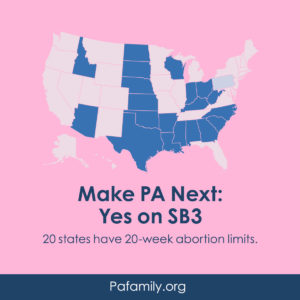 Currently, there are now twenty states with abortion limits of 20 weeks and the United States is one of only seven nations that allow elective late-term abortion past five months of pregnancy; a list that includes North Korea and China. National polls continue to show most people support limiting abortion to 20 weeks of pregnancy.
"Pennsylvania citizens deserve better than outdated laws allowing late-term abortion," says Michael Geer, President of Pennsylvania Family Institute. "It's time we get off the list of only seven nations that allow elective abortion past five months of pregnancy."
SB3 now moved to the PA State House of Representatives. Last session, similar legislation sponsored by Rep. Kathy Rapp, HB1948, passed by a two-thirds majority in the State House.
"Thanks to medical advancements, babies born before 24 weeks are surviving at record rates," says Tom Shaheen, Vice President for Pennsylvania Family Institute. "We should all be able to agree that choosing to abort babies at this same stage in development should not be permissible by law."
###
Pennsylvania Family Institute is the largest pro-life, pro-family statewide organization. Visit pafamily.org for more information. 
Available for media comment: 717-545-0600
TAKE ACTION: Tell Your State Representative YES on SB3 – tinyurl.com/YESonSB3