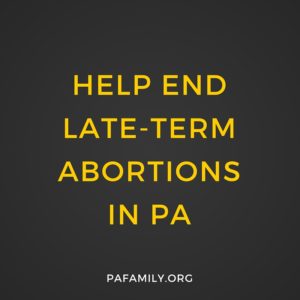 On Monday, April 4th, the Health Committee in the Pennsylvania House of Representatives passed HB 1948 by a 16-10 vote. A floor vote by the full House is now expected this week – please contact your State Representative TODAY to urge their support of HB 1948 and ending late-term and dismemberment abortions.
This legislation, as defined during the committee, would do two things:
1) Lowers the upper limit on when a person can receive an abortion to 20 weeks from 24 weeks. It keeps the emergency exceptions that are currently in law still in place.
2) Bans dismemberment abortions – a procedure that "knowingly and purposefully caus[es] the death of an unborn child by means of dismembering the unborn child and extracting the unborn child one piece at a time from the uterus through the use of clamps, grasping forceps, tongs, scissors or similar instruments."
We've put together a Family Facts sheet on the issue of late-term and dismemberment abortion. Click here to download: Family Facts – HB 1948 – End Late-Term & Dismemberment Abortions
And we've highlighted seven late-term abortion facts, like the one below, on our Facebook page today.