By: Dan Bartkowiak
My first hands-on experience at the March for Life was Snowmageddon 2016. Whether you were able to join or not, here were a few things I took away from my time in DC:
There really were a large number of young people present.
As I boarded the subway, a family with four kids heading to the March joined. I walked out of the subway into a group of students from Michigan. Walking to the rally with me was a youth group from Ohio. I could see a stroller. And another stroller. A chant started up – "We are…the pro-life generation!"
I'm 30 years old and throughout my walking around during the rally, the common site was seeing people younger than me.
Tons of signs offered proactive messages. And I'm glad I only saw one sign using an aborted baby.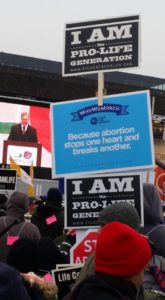 Signs were everywhere. The New York Times grossly under-reported that "hundreds" of people attended the March. What you could say is that there were hundreds of signs present. Handmade signs and printed ones with a range of messages – one of my favorites, made by Save the Storks: "Families deserve better than abortion."
There was one sign being held by two people in the back of the rally that pictured an aborted baby. With little kids walking nearby this display of a dead baby boy or girl, this is not the appropriate setting for such an image.
There is certainly a time to see the brutal reality of abortion. The undercover videos exposing Planned Parenthood's practice of selling baby parts proves that; these videos providing the evidence for the now nine states to take action to stop taxpaying funding of the abortion giant.
Scott Klusendorf, one of the top pro-life apologists, spoke to our City on the Hill students this past summer (and he's scheduled to be back for City on the Hill 2016 too!) and for part of a session he showed images of aborted babies at various stages. He warned everyone and encouraged folks to look down if they did not want to watch. This is exactly what he does as part of presentations on college campuses to show the reality of abortion.
These gruesome images are certainly appropriate to show in various contexts. The March for Life is not one of those appropriate times. But the collective message of the signs was thought-provoking and positive.
Our movement would really see a boost if there were a few outspoken pro-life pop-culture celebrities.
Carly Fiorina ("I've battled breast cancer, I've had to bury a child…I know what it means to be pro-life.") and Matt Birk (former NFL player) brought great messages and new faces to this year's March. Jewels Green (former abortion clinic worker, PA resident who was part of Life Action Day in Harrisburg last April) gave her powerful testimony.
To add to this line-up, it would be wonderful to see a few famous musical artists or actors that would aid in getting the attention of the media and the culture at large. I know that may never be possible. Especially in today's media climate, most actors or musicians who consider themselves pro-life will choose not to take such a public stand on the issue.
I saw on Facebook that Kelsey Grammer was in attendance. Yes, I do wish I was able to get a picture with him. But even though he's a famous actor, most in my generation wouldn't recognize the Frasier star (maybe there are more beast fans that love the 2006 X-Men movie than I think).
So if by some chance you are pretty famous and find yourself reading this, please get in touch with the March for Life organizers. It really would make a difference in the effort to save lives from abortion by adding your voice to the movement.
Keep up the fight.
It was great to be one of tens of thousands of people in attendance for the March. It was certainly a memorable one with the threat of a record-breaking snow bearing down on everyone.
I know there were many that had to cancel their plans of attending the march. Though it is a worthwhile investment to gather in D.C. every year, be reminded that the pro-life movement is more than just a one-day-a-year event. Just as Pennsylvania State Senator John Eichelberger said in an interview with PFI President Michael Geer at the March:
"There are issues out there that we need to fight on an everyday basis and this is still the preeminent issue for all of us in the pro-life movement."
Be encouraged to fight every day for pro-life causes and know that you are not alone – especially after seeing the March and so many willing to make a public stand for pro-life values.
Dan Bartkowiak is the Director of Communications with Pennsylvania Family Institute.