July 21-27, 2019: Pennsylvania's Premier Youth Leadership & Worldview Conference
Download your application here.
Since the summer of 2001, high school students across Pennsylvania have gathered for "a life-changing experience" – City on the Hill.
Lancaster Bible College – Lancaster, PA
City on the Hill (COTH) is a unique one-week experience for high school students that is designed to teach worldview principles and develop leadership skills. The action-packed week incorporates top-notch speakers who challenge the young people to think critically and be able to defend their viewpoints in the public square.  COTH also provides the unique experience of using the political process as a means of cultivating leadership skills – all conducted in a positive environment where discussion, interaction, and shared-experiences allow friendships to grow with like-minded peers.
COTH Faculty & Staff: City on the Hill was founded by the Pennsylvania Family Institute in 2001 with a vision of training and raising up the next generation of leaders. The entire PFI team, our volunteers, and our top-notch guest speakers combine to make City on the Hill a fun, educational, enriching, and inspiring week.
What Students Say about COTH:
"An amazing experience that left me feeling fully equipped to be a 'city on a hill' in my home, my community, my country, and my world."
"It's a life changing experience. What I learned here, the friends I've made…God truly worked in my life this week. I always look forward to COTH and would recommend it to anyone. You don't necessarily have to be interested in politics. You gain so much more than that."
"It was absolutely amazing and totally different than I had ever expected. I came to COTH being pretty nervous and not sure of what to expect, but it was one of the most incredible experiences of my life; not only did I learn how to better stand up for what I believe, but I also make life-long friendships and grew a lot closer to God as well."
"I have never felt God in such a real way as I did at COTH. The knowledge and perspective shift I gained was invaluable."
"It is a one-of-a-kind experience. Truly life-changing."
"Life-changing" is by far the most heard comment from students about COTH. For a recap of last year's City on the Hill experience, click here.
The COTH experience includes:
12 Training Sessions: Topics like The Case for Life, Christians in the Public Square and Why Religious Freedom Matters.
A week of college dorm-life on the Lancaster Bible College campus.
Morning & Evening devotions.
Use of the Senate Floor and Committee Rooms of the Pennsylvania State Capitol Building.
Worship Night and Student Talent Show.
Mid-week recreational trip.
Friday Awards Banquet.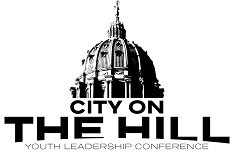 COTH Tuition – $560
Includes the full COTH experience along with all meals, transportation and overnight lodging
Questions? Contact PA Family Institute at 717-545-0600 or email Dan at dbart@pafamily.org.
City on the Hill is the highlight of our summer – will it be yours?