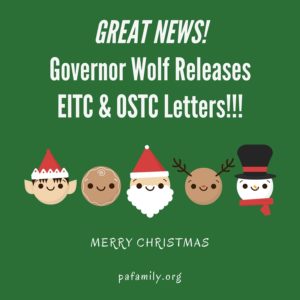 Helping to make Christmas this year a little brighter for children in low-income families, Governor Wolf has just ordered the Department of Community and Economic Development (DCED) to release the approval letters to all businesses for the Educational Improvement Tax Credit (EITC) and Opportunity Scholarship Tax Credit (OSTC).
These approval letters notify a business will receive a tax credit on their donation into this scholarship program. Every year, 40,000 scholarships are provided to low-income families to allow their children to attend a private or Christian school; often due to living in a low-performing public school district.
Thank you Governor Wolf for taking this action and allowing some time for businesses to make 2015 year-end donations into the program.
And thank you to everyone who made calls into the Governor's office encouraging this action. Your calls have been heard and it has now helped to allow more scholarship aid to be available for children in 2016.
For businesses looking to make year-end donations for 2015, more information is available on the DCED website at newpa.com. For an EITC/OSTC tax credit for 2015, the donation must be issued/date on the check be no later than December 31, 2015. (Click here for EITC guide info on newpa.com)
For more about donating specifically to the Pennsylvania Family Institute's Family Choice Scholarship Program, visit myfamilychoice.org/businesses.