Nearly $14,000 per day in taxpayer dollars spent in 2022 on "sex reassignment" and transition-related services through state health insurance programs for children.
(HARRISBURG, PA) A new report reveals over $20 million in Pennsylvania taxpayer dollars have been used to pay for sex reassignment and transition-related services and drugs on minors since 2015.
The Pennsylvania Family Institute filed a Right-To-Know request with the Pennsylvania Department of Human Services which reveals that, from January 1, 2015 to July 28, 2023, more than $19.8 million in tax dollars have been spent on puberty-blocking drugs, cross-sex hormones, and gender-related surgeries for children 18 years old and younger. To date, estimates would put the total well over $20 million in taxpayer funding.
"This shocking report reveals Pennsylvania taxpayers are being forced to fund harmful drugs and surgeries on children, sending millions of dollars every year to carry out detrimental and irreversible procedures upon minors," states Michael Geer, PA Family Institute President.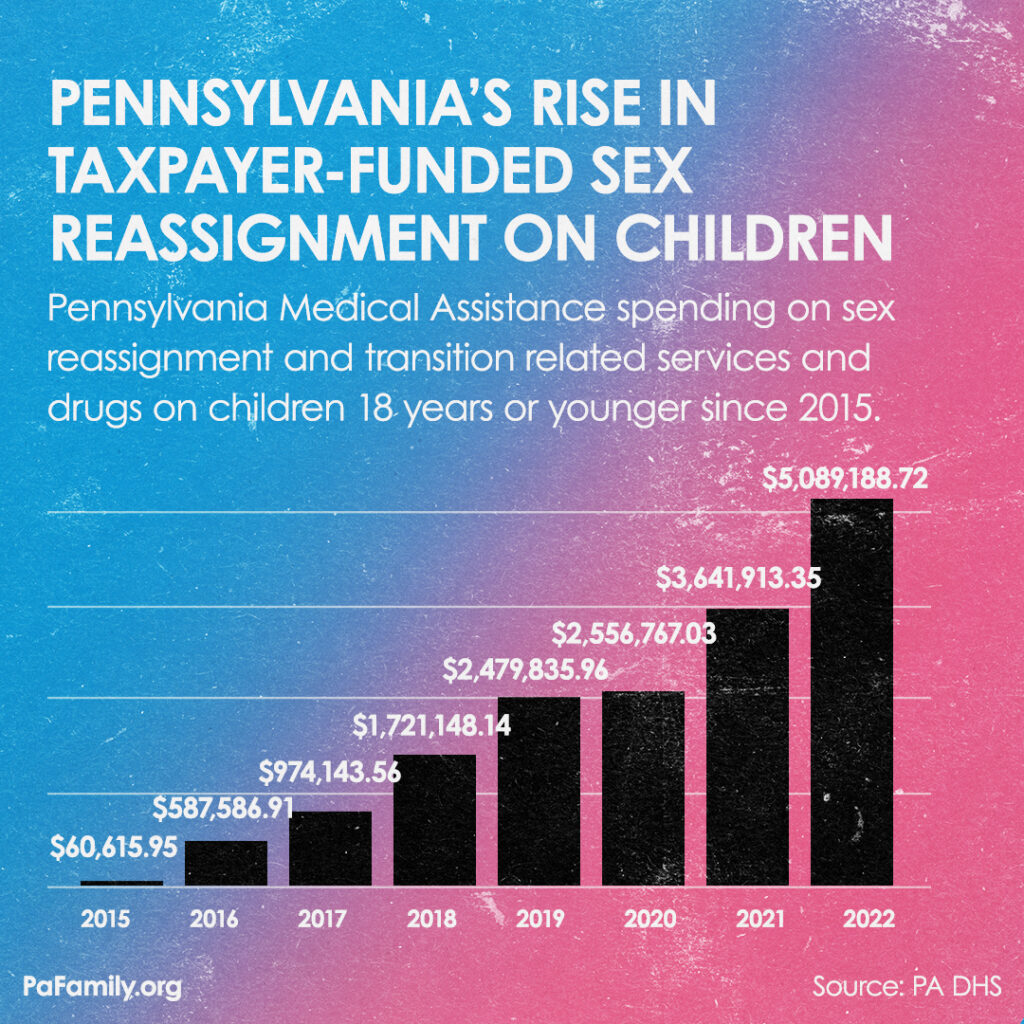 From 2015 to 2022, Pennsylvania has had a more than 8,200 percent increase in taxpayer funding for these drugs, surgeries, and services through these state insurance programs for children.
This latest report marked the first time annual spending eclipsed over $5 million, and early indications for 2023 show the increase in funding continues. In 2022, Pennsylvania spent nearly $14,000 per day in taxdollars on "sex reassignment" and transition-related services for children.
The rise in funding "sex-change" surgeries and services has become big money for hospitals. Dr. Shayne Taylor, from the Vanderbilt Clinic for Transgender Health in Tennessee, has stated: "These surgeries make a lot of money. So female-to-male chest reconstruction can bring in $40,000. A patient just on routine hormone treatment who I'm only seeing a few times a year can bring in several thousand dollars… It actually makes money for the hospital."
At least three Pennsylvania children's hospitals are currently performing "gender affirmation" services, including the Children's Hospital of Philadelphia (CHOP), UPMC Children's Hospital of Pittsburgh and Penn State Health Children's Hospital.
In 2015, doctors from PA hospitals lobbied to expand state coverage of these harmful surgeries and services, and have since lobbied against any state prohibition of taxpayer dollars being used for these harmful procedures through the Children's Health Insurance Program (CHIP). Dr. Nadia Dowshen, Co-Director of the Gender and Sexuality Development Clinic at Children's Hospital of Philadelphia (CHOP), has actively lobbied for the expansion of state coverage for "gender-affirming care" and is a member of state LGBTQ political workgroups with this goal in mind.
CHOP has held numerous training sessions for school educators and counselors, with evidence showing that they encourage keeping information secret from parents. "In 2017, we completed 33 trainings in 15 schools; reaching more than 1,500 educators," states the CHOP website. They also indicate 40-50 requests annually for school training.
"This is state-sponsored child mutilation that taxpayers are being forced to fund," added Geer. "Not one penny of funding should be used to advance this type of harmful activity."