On Friday, July 8, both chambers of the Pennsylvania General Assembly passed the Life Amendment, a constitutional amendment that would protect current pro-life protections and prevent taxpayers from being forced to pay for abortion.
Below is the roll call vote for both the PA Senate (28-22) and PA House (107-92). We thank every State Senator and State Representative who voted in favor of protecting unborn life. If your State Senator and/or State Representative voted yes in support of the Life Amendment, please contact them to say thank you.
PA Senate
PA Senate YES votes on the Life Amendment:
State Senator Judy Ward (R-Blair), Lead Sponsor jward@pasen.gov 717-787-5490 @SenatorJWard
State Senate President Pro-Tempore Jake Corman (R-Centre) jcorman@pasen.gov 717-787-1377 @JakeCorman
State Senate Majority Leader Kim Ward (R-Westmoreland) kward@pasen.gov 717-787-6063 @SenatorKimWard
Health Committee Chair State Senator Michele Brooks (R-Mercer) mbrooks@pasen.gov 717-787-1322
State Senator David Argall (R-Berks) dargall@pasen.gov 717-787-2637 @SenatorArgall
State Senator Ryan Aument (R-Lancaster) raument@pasen.gov 717-787-4420 @SenatorAument
State Senator Camera Bartolotta (R-Beaver) cbartolotta@pasen.gov 717-787-1463 @senbartolotta
State Senator Lisa Boscola (D-Lehigh) boscola@pasenate.com 717-787-4236 @SenLisaBoscola
State Senator Patrick Browne (R-Lehigh) pbrowne@pasen.gov 717-787-1349 @SenatorBrowne
State Senator John DiSanto (R-Dauphin) jdisanto@pasen.gov 717-787-6801 @SenatorDiSanto
State Senator Cris Dush (R-Cameron) cdush@pasen.gov 717-787-7084
State Senator Chris Gebhard (R-Lebanon) cgebhardt@pasen.gov 717-787-5708 @SenatorGebhard
State Senator John Gordner (R-Montour) jgordner@pasen.gov 717-787-8928 @SenatorGordner
State Senator Scott Hutchinson (R-Butler) shutchinson@pasen.gov 717-787-9684 @SenHutchinson
State Senator Wayne Langerholc (R-Bedford) wlangerholc@pasen.gov 717-787-5400 @SenLangerholc
State Senator Scott Martin (R-Lancaster) smartin@pasen.gov 717-787-6535 @ScottFMartin
State Senator Doug Mastriano (R-Adams) dmastriano@pasen.gov 717-787-4651 @SenMastriano
State Senator Bob Mensch (R-Berks) bmensch@pasen.gov 717-787-3110 @SenatorMensch
State Senator Kristin Phillips-Hill (R-York) senatorkristin@pasen.gov 717-787-7085 @SenatorKristin
State Senator Joe Pittman (R-Armstrong) jpittman@pasen.gov 717-787-8724
State Senator Mike Regan (R-Cumberland) mregan@pasen.gov 717-787-8524 @SenatorReganPA
State Senator Devlin Robinson (R-Allegheny) drobinson@pasen.gov 717-787-5839 @SenRobinsonPA
State Senator Mario Scavello (R-Monroe) mscavello@pasen.gov 717-787-6123 @senatorscavello
State Senator Patrick Stefano (R-Fayette) stefano@pasen.gov 717-787-7175 @SenatorStefano
State Senator Robert Tomlinson (R-Bucks) rtomlinson@pasen.gov 717-787-5072 @SenTomlinson
State Senator Elder Vogel (R-Beaver) evogel@pasen.gov 717-787-3076 @SenElderVogelJr
State Senator Gene Yaw (R-Bradford) gyaw@pasen.gov 717-787-3280 @SenatorGeneYaw
State Senator John Yudichak (I-Carbon) yudichak@pasenate.com 717-787-7105 @SenJohnYudichak
PA Senate NO Votes on the Life Amendment:
State Senate Minority Leader Jay Costa (D-Allegheny) costa@pasenate.com 717-787-7683 @Senatorcosta
State Senator Lisa Baker (R-Luzerne) lbaker@pasen.gov 717-787-7428 @SenLisaBaker
State Senator Larry Brewster (D-Allegheny) brewster@pasenate.com 717-787-5580 @SenatorBrewster
State Senator Amanda Cappelletti (D-Delaware) cappelletti@pasenate.com 717-787-5544 @SenCappelletti
State Senator Maria Collett (D-Bucks) senatorcollett@pasenate.com 717-787-6599 @SenatorCollett
State Senator Carolyn Comitta (D-Chester) senatorcomitta@pasenate.com 717-787-5709 @SenatorComitta
State Senator Jimmy Dillon (D-Philadelphia) jdillon@pasen.gov 717-787-9608
State Senator Marty Flynn (D-Lackawanna) flynn@pasenate.com 717-787-6481 @SenMartyFlynn
State Senator Wayne Fontana (D-Allegheny) fontana@pasenate.com 717-787-5300 @WayneDFontana
State Senator Art Haywood (D-Montgomery) senatorhaywood@pasenate.com 717-787-1427 @SenatorHaywood
State Senator Vincent Hughes (D-Montgomery) hughes@pasenate.com 717-787-7112 @SenatorHughes
State Senator John Kane (D-Chester) kane@pasenate.com 717-787-4712 @SenatorJohnKane
State Senator Timothy Kearney (D-Chester) senatorkearney@pasenate.com 717-787-1350 @SenTimKearney
State Senator Dan Laughlin (R-Erie) dlaughlin@pasen.gov 717-787-8927 @senatorlaughlin
State Senator Katie Muth (D-Berks) senatormuth@pasenate.com 717-787-1398 @SenatorMuth
State Senator Steven Santarsiero (D-Bucks) senatorsantarsiero@pasenate.com 717-787-7305 @SenSantarsiero
State Senator Nikil Saval (D-Philadelphia) saval@pasenate.com 717-787-5662 @SenatorSaval
State Senator Judith Schwank (D-Berks) senatorschwank@pasenate.com 717-787-8925 @SenJudySchwank
State Senator Sharif Street (D-Philadelphia) sharif.street@pasenate.com 717-787-6735 @SenSharifStreet
State Senator Christine Tartaglione (D-Philadelphia) tartaglione@pasenate.com 717-787-1141 @SenTartaglione
State Senator Anthony Williams (D-Philadelphia) williams@pasenate.com 717-787-5970 @SenTonyWilliams
State Senator Lindsey Williams (D-Allegheny) senatorlindseywilliams@pasenate.com 717-787-6538 @SenWilliamsPA
PA House of Representatives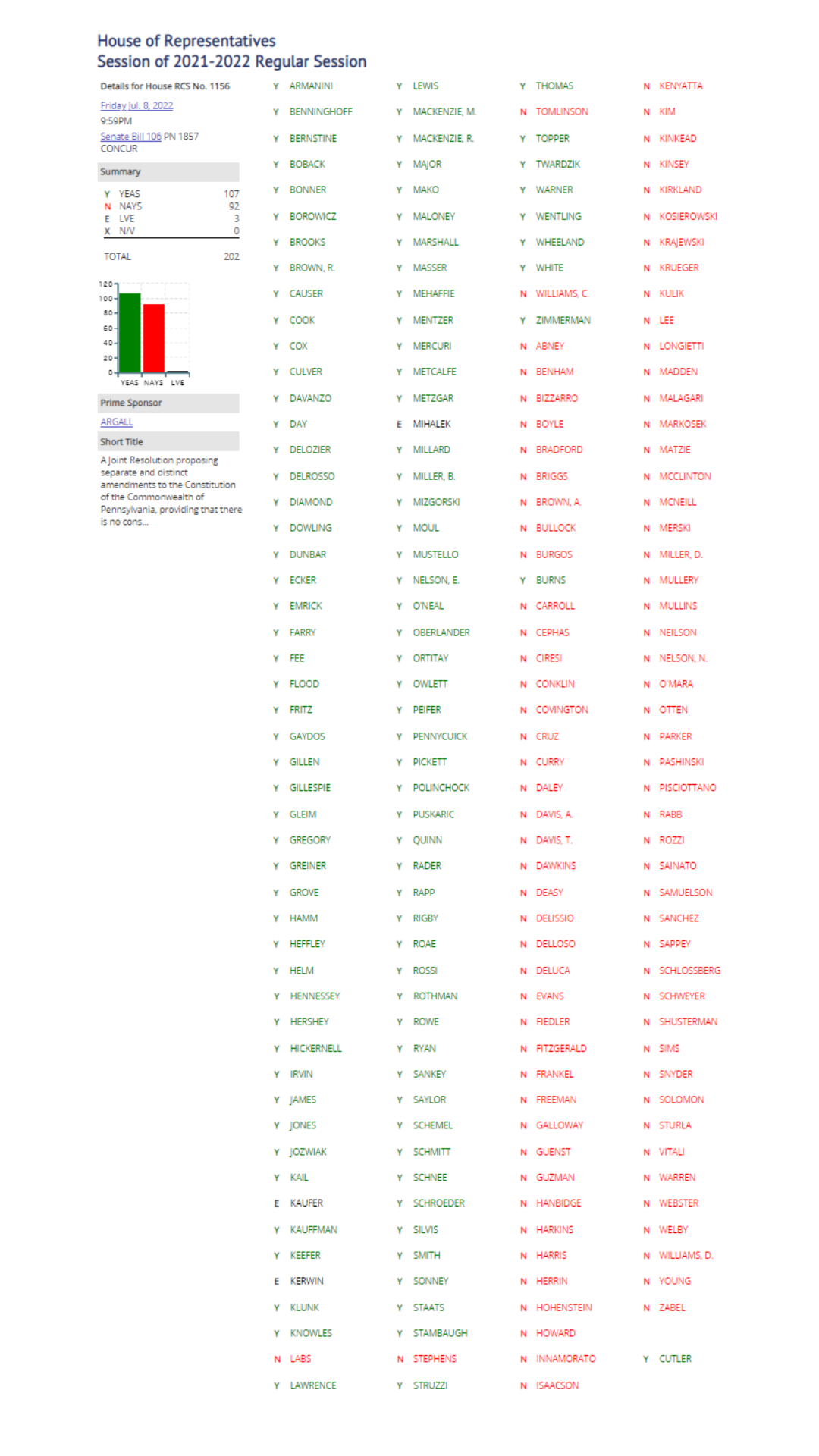 Click here to find contact info for your state legislators.
This constitutional amendment is a response to a lawsuit filed by the abortion industry, now before the Pennsylvania Supreme Court, that threatens to force taxpayer funding of abortion and to create a right to abortion in our state constitution. Without the Life Amendment, all current and future laws protecting life in Pennsylvania are in jeopardy. With the Life Amendment, we can reverse such a court ruling and continue the work to protect all innocent human life in our state.
"Pennsylvanians agree that taxpayers should not be forced to pay for the taking of a human life through abortion. Just as the U.S. Supreme Court in the overturn of Roe and Casey ruled that the authority to craft abortion policies should be given 'to the people and their elected representatives,' this amendment preserves the rights of the people through their representatives to make these decisions rather than Pennsylvania's courts." – Michael Geer, PA Family
For more on the Life Amendment, visit PaLife.org.