Despite a Supreme Court victory in 2016, a group of Catholic nuns serving the elderly are back at the Supreme Court after Pennsylvania's Attorney General Josh Shapiro brought another lawsuit attempting to force them into violating their religious beliefs.
The Little Sisters of the Poor are an order of nuns in the Catholic Church who care for the elderly. They serve a vulnerable and often forgotten community in our society, one that is especially hit hard by the current pandemic. As some of their work involves running retirement homes, they have been deeply grieving losses at an unprecedented rate as their residents die of COVID-19 without friends or family able to be there.
If the name sounds familiar to you, it's probably because the Little Sisters of the Poor have already been taken to the Supreme Court before when the Obama Administration sought to force them to pay for abortion-inducing drugs. After years of litigation, they won their case in May 2016. However, the ruling did not thoroughly resolve the issue because it only allowed the Little Sisters to be exempt from paying for contraceptives under Obamacare. Believing that contraceptives are abortifacients that violate God's law, the Little Sisters could not be involved in providing contraceptives, even if they were not the ones who paid for them.
In 2017, the Trump Administration issued an exemption that would allow for the Little Sisters to have full religious freedom and not be forced to violate their conscience. In response, Pennsylvania Attorney General Josh Shapiro took the Little Sisters back to court to strip away the protections given to them; protections for which they have been fighting for in court for nearly a decade.
Shapiro claims to be taking the Trump administration to court as he advocates for "medicine for women." However, the facts could not be further from this picture. Little Sisters of the Poor v. Pennsylvania is about defending the Little Sisters' deeply held religious convictions.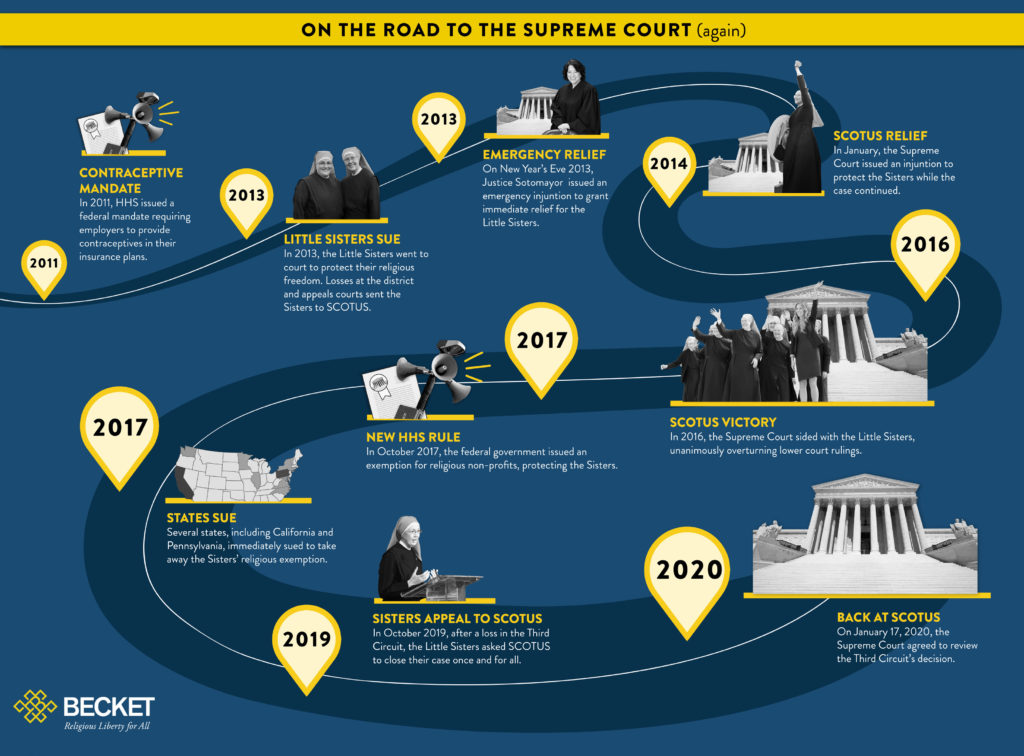 We at the Pennsylvania Family Institute have seen first hand how crucial it is to defend one's religious liberties. Our Independence Law Center played a crucial role in the Conestoga Wood Specialties case back in 2014, which was combined with Hobby Lobby case, where we helped defend the rights of a Lancaster County family and their business to not be forced to provide drugs that can cause an abortion.
The oral arguments in this case will be heard by the U.S. Supreme Court on May 6, 2020 via teleconference. Click here to listen live on C-SPAN at 10am.