Central PA high school is preventing students from sharing Bibles at lunch with their friends.
One high school in Central Pennsylvania has created some controversy after repeatedly denying students the ability to exercise their constitutional right to free speech.
The student leaders of the Christians in Action Student Club (Bible Club) at Mechanicsburg Area School District were denied permission by School Principal David Harris from sharing Bibles during lunch with their classmates and friends. Not only did Principal Harris tell these students that they were "not permitted to handout Bibles during the school day" but he also ordered that they not even hand out Bibles outside of the school day unless they were granted permission first from the school.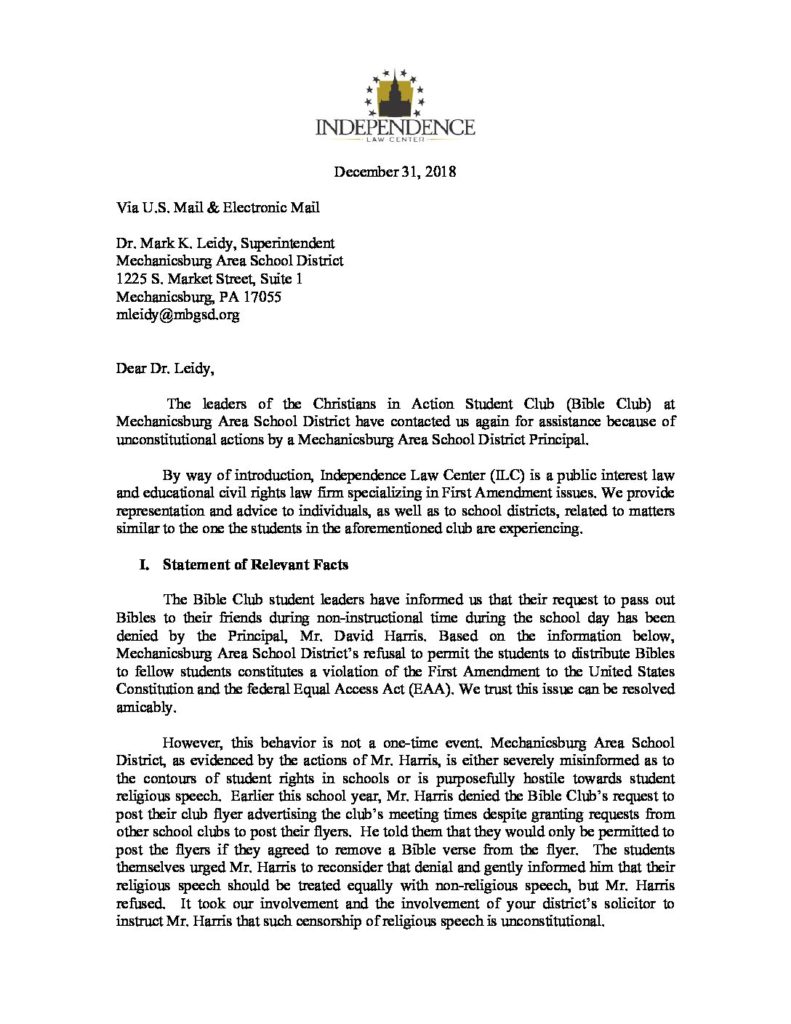 "Mechanicsburg Area School District's refusal to permit the students to distribute Bibles to fellow students constitutes a violation of the First Amendment to the United States Constitution and the federal Equal Access Act (EAA)," says Jeremy Samek, Senior Counsel of the Independence Law Center, in a letter written to the school.
This is not the first time these students have been denied. Earlier this school year, Principal Harris denied the Bible Club's request to post their club flyer in the school, just like other school clubs were permitted to do, because their flyer contained a Bible verse – Mark 15:16 – on the bottom. The students asked Principal Harris to reconsider and were again denied. It was only after the legal involvement of the Independence Law Center that he relented and approved the club's flyer with the Bible verse.
"Mechanicsburg Area School District, as evidenced by the actions of Mr. Harris, is either severely misinformed as to the contours of student rights in schools or is purposefully hostile towards student religious speech," adds Samek.
The Independence Law Center has given the school until Monday, January 7th to provide a written confirmation that they will permit these students to distribute Bibles during non-instructional time as well as to provide information to administrators and teaching staff on the policy. There is a school board meeting, open to the public, on Tuesday, January 8th at 7pm at Elmwood Academy.
###
Independence Law Center is a Pennsylvania-based pro-bono legal organization dedicated to advancing civil rights.