Pennsylvania Family Council is deeply disappointed by the lost opportunity in the Pennsylvania State Senate to pass the Down Syndrome Protection Act, House Bill 2050, before the session ended Wednesday. This allows the targeting of babies for abortion simply because they may have Down syndrome to continue. The bill had passed the House earlier this year by a very strong, bipartisan veto-proof majority.
"The state Senate has missed a great opportunity to stand for disability rights," says Michael Geer, President of the Pennsylvania Family Council. "And by their inaction, mothers and families will likely continue to experience pressure from within the medical community to abort their unborn child following a prenatal diagnosis of Down syndrome."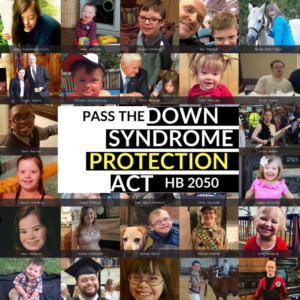 This week, the offices of Senate leaders, Sen. Jake Corman and Sen. Joseph Scarnati, reported a "high volume" of calls from concerned Pennsylvania citizens asking to bring this bill to a vote. International disability rights champions such as Joni Eareckson Tada and Karen Gaffney voiced their support for the bill along with thousands of Pennsylvania citizens. The momentum supporting the Down Syndrome Protection Act has been growing steadily and showed no signs of slowing. In March 2018, families with children with Down syndrome traveled to the state capitol to visit House and Senate members with their message: "Down syndrome is a life worth living!"
"Countries like Iceland and Denmark are aborting nearly every child diagnosed with Down syndrome in the womb," comments Dan Bartkowiak, Director of Communications for the Pennsylvania Family Council. "In America, two out of every three babies diagnosed with Down syndrome are being aborted. How many women would have been spared the coercive pressure from within the medical community and other segments of our society to abort their child solely because of Down syndrome, and how many lives would have been saved had this bill become law?"
House Bill 2050 would prohibit an abortion solely based on a diagnosis of possible Down syndrome, and would augment the Pennsylvania law that already prohibits abortions solely based on the sex of the baby. House Bill 2050 passed the PA House with by a bipartisan vote, more than the two-thirds majority needed to override a promised veto from Governor Tom Wolf, an outspoken advocate of abortion-on-demand.
"Prenatal testing for Down syndrome is rapidly increasing in frequency," adds Geer.
"The lack of action by the State Senate conveys to society, including our medical community, that it's fine to abort a baby simply because of this disability. Pennsylvania cannot claim to stand for disability rights and continue to permit this ultimate form of discrimination."
Pennsylvania Family Council thanks Speaker of the House Mike Turzai, Representative Judy Ward and Senator Scott Martin for leading the charge for the Down Syndrome Protection Act. We join families of children with Down syndrome, and the thousands of Pennsylvanians supporting them, in calling for future passage of legislation that protects the most vulnerable of our citizens.
###
Pennsylvania Family Council is the Commonwealth's largest pro-life, pro-family statewide organization. For more information, visit pafamily.org.