Planned Parenthood just found out how in 50 words or less they can communicate to the world their twisted interest in indoctrinating the next generation with extreme abortion-centric viewpoints.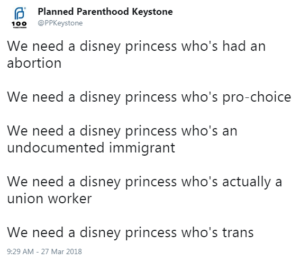 The now-viral tweet from a Planned Parenthood affiliate in Pennsylvania suggested we need a Disney princess who's had an abortion.
What's telling is their response – after it went viral despite their effort to delete the tweet, they were compelled to confirm the posting, but made no apology.
"Upon reflection, we decided that the seriousness of the point we were trying to make was not appropriate for the subject matter or context, and we removed the tweet."
In other words, we agree with what's said, but just not for a Twitter post.
Planned Parenthood's extremism should scare every parent. They are actively seeking to target children in any way possible in order to influence their beliefs about abortion.
Here's an example: It was Planned Parenthood Keystone that attempted to gain direct access to a public school district in Reading, PA this school year. Their plan was to staff an office inside the school and provide sex education (even though no evidence was presented that this plan would actually help students.)
By just one vote, the school district voted down the proposal. This has kept Planned Parenthood Keystone out of this particular school district this year, a school where they have an abortion clinic less than two miles away that averages 900 abortions each year and charges between $450 and $540 for each procedure.
There are many school districts that have Planned Parenthood teaching the sex education curriculum. Parents may not know a program like Get Real: Comprehensive Sex Education That Works is developed by Planned Parenthood and includes such material as an explanation of anal and oral sex in the 6th grade curriculum. Recently, a small group of concerned parents in North Carolina voiced concern over nine middle schools that had implemented Planned Parenthood's curriculum in 2016. The district later voted to drop the program. (The board pointed out how Planned Parenthood "is not an approved resource speaker for Health Education.")
This viral tweet is indicative of Planned Parenthood's ideology. They absolutely think a Disney princess story should focus on abortion. They just now will try to keep it off of social media and contain it in conversations in your kids' classroom.
###
TAKE ACTION: Senate Bill 300 and House Bill 1542 would reallocate funding away from entities providing abortion in Pennsylvania and invest in those providing better and more comprehensive women's health care. To learn more and to contact your State Senator and State Representative in support of SB300 / HB1542, go to our Citizen Action Center: tinyurl.com/SupportSB300