Update by Randall Wenger, Chief Counsel for the Independence Law Center
As you consider making any contributions to important causes this Giving Tuesday, may I request your donation in support of growing our religious freedom outreach?
We have been swamped with requests from those seeking help from attacks on religious freedom. Please support the work of the Pennsylvania Family Institute so that our legal arm – the Independence Law Center – is equipped to provide pro-bono legal assistance to all those in need.

Here's a brief rundown on some of the matters we've been involved with that you should know about, because liberty is at stake for all of us:
Advancing the gospel through protecting Christian ministries
Christian schools – We provide legal guidance to countless Christian schools that fear the national trends narrowing schools' religious independence and threatening Christian schools to support lifestyles that are contrary to biblical teaching.
Child Evangelism Fellowship and Joy El Ministries – Governmental heavy handedness by school boards and state government has jeopardized ministries bringing the gospel to public school students. Often these ministries are the only access that these students have to the gospel and has resulted in many saved souls. We have been successful in court actions protecting these ministries. (We'd like to thank the Smith Law Group for their ongoing work in partnership with our efforts in this area.)
Church and ministry taxation – Various counties have tried to tax churches and other ministries. The power to tax is the power to control, and we believe it necessary to defend the longstanding policy against taxing such ministries and have been repeatedly successful in these legal efforts.
Advancing religious liberty in education
Public school students – We have succeeded in helping students in public schools with issues such as the display of a cross or a Bible verse. Sometimes these can be won through education, but other times require legal action.
Counseling student – A counseling student was denied his Master's degree when the school learned he was helping a client to fight addiction to gay pornography. With our legal help, the school granted him his diploma.
Christian professor – A community college professor was fired after a parting message to students that the school deemed to be improper because of its reference to God and its "biblical syntax." After our involvement, the professor has now received his job back.
Advancing our values
Pro-life law – We worked to protect our pro-life laws here in Pennsylvania by filing a friend-of-the-court brief in a matter before the U.S. Supreme Court earlier this year.
Adult business litigation – We assisted with various local governments and citizen groups in limiting adult businesses. One adult-business owner complained that we "will be the downfall of all adult clubs in Pennsylvania."
Personal privacy – We've worked with many community groups, parents, and schools to advance student privacy in showers and locker rooms after the Obama administration's letter to schools earlier this year, jeopardizing our schools and our children.
Finally, we gave counsel to Christian high schools, colleges, students seeking professional licenses, camps, churches, religious broadcasters, photographers, wedding venues, a bridal shop, musician, florist, baker, foster and adoption agencies, doctors, nurses, pharmacists, and various ministries – all with deep concerns with their ability to follow their faith.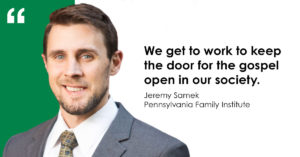 We help people exercise their faith. Our team at the Independence Law Center has helped to bring a counterbalance to our culture's growing animosity towards religion. And even with just a little bit of education, by God's grace, a lot can be done to advance First Amendment principles.
We are here to keep the doors open for religious freedom and sharing the Gospel. Our goal is to stand ready to push back against our culture's pressure to conform; and to do so free of charge to all of our clients.
But the needs are greater than we can provide. There is no taxpayer funding that comes our way. We are solely funded by people like you who value the causes we fight for and partner with us financially in order to be effective.
We need to expand our work, and that's why your gift today is so appreciated. Click here to give a tax-deductible gift online. The growing number of calls we receive is indicative of what's happening in the public square. But with your partnership, we will stand ready to serve and to help you and so many others live out their faith.