National Review Online recently covered Chief Kelvin Cochran's story. "In any other circumstance, Cochran would be the subject of inspirational books and movies — a firefighter's version of Ben Carson's Gifted Hands."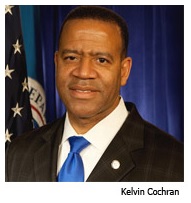 Kelvin Cochran is an award-winning fire chief, a former U.S. fire administrator appointed by President Obama, who later led the city of Atlanta to become one of the nation's top cities for fire protection. And at no point in his career had he been accused of discrimination.
"To this point, Kelvin Cochran's story is one that would make a university diversity officer rejoice. Born poor and black, he rose above poverty and discrimination to become not only a professional leader but also one who dedicated himself to combating the discrimination that had wounded him early in life. He was professional. He was inclusive. He was compassionate. Unfortunately for Cochran, however, he was also Christian — and that brings us to the rest of the story."
You can read more about his story online but you also have the opportunity to meet Chief Cochran in person and hear him tell his story at the PA Family Institute Friends of the Family banquet on Saturday, May 21. Tickets and sponsorship opportunities are now available.
Just go to dinnerwiththefamily.org for more details. Individual dinner tickets are $75 – click here to make your reservation.