Chief Kelvin Cochran was before a judge on Wednesday (October 14) as a district court in the state of Georgia heard arguments about whether or not to move forward with his lawsuit.
Chief Cochran (our special guest at the Friends of the Family banquet in Hershey October 30th) was fired from his job in January 2015 for writing a men's devotional book. He had been a firefighter since 1981 and was appointed Atlanta's fire chief in 2008. He thus has brought a federal lawsuit against the city for wrongful termination.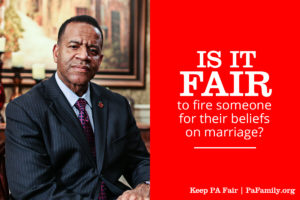 An alarming argument was made against Cochran on Wednesday, according to his attorney David Cortman – Senior Counsel for the Alliance Defending Freedom. "[The city] actually argued that you're entitled to have beliefs and opinions, but you have to keep them to yourself, inside the four walls of your house or your church—that you shouldn't bring them out into the public, and you shouldn't bring them out if you're employed by a government agency."
In his seven years as Atlanta's fire chief, not one claim was made against Chief Cochran accusing him of discriminating against someone. It was only until a copy of the book made its way to City Councilmember Alex Wan, who is openly gay, that charges of discrimination began.
After the hearing, Chief Cochran had this to say: "All across our country, people of faith are finding themselves increasingly at risk of losing their jobs, their businesses, and more because certain segments of society find them and their beliefs intolerable."
This risk will come to Pennsylvania if the so-called "Fairness" Act is passed. Have you told your elected officials yet about the dangers of this proposal? Please do.