There are a few puzzling realities in Pennsylvania:
Although there's been a small decline in the rate of abortions, the numbers continue to remain dramatically high (over 32,000 per year).
Too many people do not have a basic knowledge of the impact abortion has on our communities (such as knowing 32,000 abortions happen every year or that taxdollars are given to the largest abortion provider in the state).
It's been too long since there has been a thoughtful, fact-based discussion about ways to reduce abortion.
To help those realities, may we introduce AbortionisPersonal.org – a resource for Pennsylvanians committed to understanding the true impact of abortion on women, their families, and their communities.
What you will find at AbortionisPersonal.org:
1) The State of Abortion in Pennsylvania: 2015 Report – Historic Trends, 'House of Horrors' and Record Highs in Spending
Ask yourself – where do abortions happen in Pennsylvania? How many happen? What laws impact abortion? Who is the largest abortion provider? And do they really receive my tax dollars?
All this and more is part of this new report – bringing for the first time a comprehensive look into facts and figures surrounding abortion in Pennsylvania. Click here to download the full report.
2) Video – "Alone"
It can be difficult to find a conversation starter in discussing abortion. This video can help get the conversation started: Planned Parenthood is Pennsylvania's largest and most lucrative chain of abortion stores, with 33 locations that bring in some $35 million a year. It is the abortion industry's unquestioned market leader, selling and performing more than half of Pennsylvania's 32,000 abortions in 2013. A tragic reality.
 3) Graphics
Help spread truth: abortionispersonal.org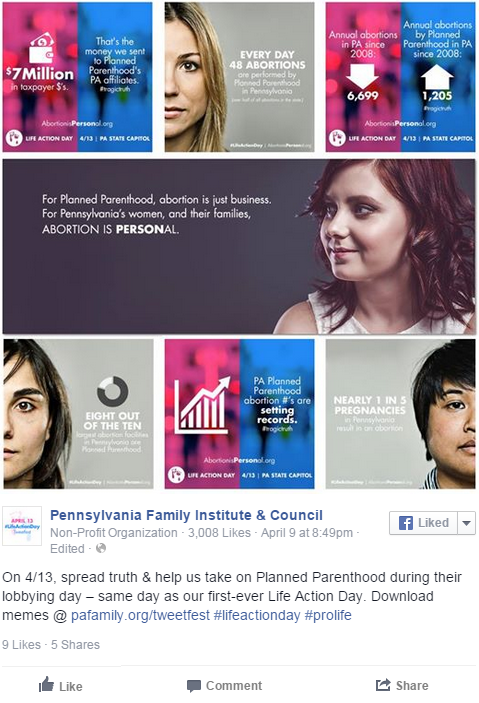 Amazing turnout for #LifeActionDay – 1 in 5 pregnancies ending in abortion is too many. #ppactionpa #PA4WomensHealth pic.twitter.com/O7AShgDxBc

— PA Family Institute (@PFIpolicy) April 13, 2015
A project of the Pennsylvania Family Council
Support the project – Click here to donate to PFC.