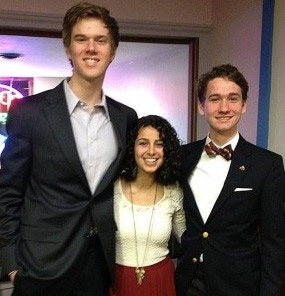 Two City on the Hill alumni, Elliott Neff (pictured here, on the left) of Lancaster and Elijah Coryell (pictured here, on the right) of Henryville, met at our conference. Two students who came not knowing what to expect and found it to be a life-changing experience.
We asked them a few questions about their experience of City on the Hill. Here's what they had to say:
Q: Why did you come to City on the Hill in the first place?
Elliot: Although I already had a budding interest in politics, I came to City on the Hill (COTH) for the first time in 2008 primarily because my parents "highly encouraged me" to go-—an experience I shared with a sizeable portion of the students there. However, in early high school, I found myself getting caught up in more and more intellectual conversations that I wished I had been better equipped to understand. I found myself frustrated, wishing that I had a better grip on questions dealing with politics and apologetics. I realized that I could not get far in this life without confronting an array of opposing worldviews, and my hunger for answers began to grow on me. In short, I felt that COTH would be an excellent opportunity to grow more in these ways.
Elijah: I originally came to COTH in the summer of 2009 because a good friend of mine had attended the previous summer and recommended that I go. Fancying that I had an interest in debate and Christianity's role in politics, I went for it!
Q: What was your first years' experience like?
Elliot: It changed my world. During my first year, my initial anxieties were put to rest within an hour of arriving. I learned about the processes of legislation within our government (both from PA Family Institute staff as well as from lawyers and other persons working within the state capitol), listened to incredible speakers that challenged my faith, and, to my pleasant surprise, gained much insight into the realm of apologetics. To my great relief, I found myself answering many of my own previous questions that I had welling up within me. The insights that I took away from my first year, coupled with the genuine friendships that I made, caused me to grow deeply in my walk with God and see it in ways that I had never considered previously. I loved every moment of my experience there!
Elijah: Nothing short of revolutionary. My experience with COTH, especially the first year, acted as a life-orientation of sorts. It pushed me into more mature perspectives on how to devote my focus and energy. I guess you could say it instilled a certain sense of urgency that I'm not sure would have come otherwise.
Q: How did City on the Hill foster your friendship between you both?
Elliot: COTH allowed us both to engage in issues that we are both passionate about. That common passion that we shared really allowed me to develop meaningful friendships quickly with those around me — including Elijah! What makes COTH such an amazing environment for fostering friendships is that everyone is seeing one another as they really are! I felt open and eager to share my passions with those around me, and I found that many of their passions were similar to mine. That common ground that I shared in my heart with so many enabled us to grow quickly and meaningfully.
Elijah: I think the greatest thing COTH did was simply introduce me to Elliot, and to other God-seeking teens! I've always had Christian friends. But I was so unfamiliar with being part of a community that so thoroughly cared about what's truly important. COTH taught me that the most fulfilling friendship is one that is fundamentally based our common Christian walk and experience.
Q: Why did you come back to City on the Hill?
Elijah: For as phenomenal as the program itself is, and for as much fun as I have with the competitive aspect of the week, I continued to return to COTH for the people. I don't know where else you can find a similar open and rejuvenating environment. Each summer I'd return from the conference refreshed, inspired, and ready to tackle the approaching academic semester.
Q: Has City on the Hill impacted your college experience?
Elliot: In many ways, it has. In my late middle school and early high school years, I began encountering worldviews dissimilar to my own, and I grew frustrated because I did not know how to deal with them for the most part or how to provide reasons for why I believed what I believed to others. I knew God, but I was struggling to sort through these worldviews pressing in from every side. During my first year, one of the speakers spoke about moral relativism, and, honestly, I was fascinated to observe him deal with these "devastating" arguments so quickly and effectively. From that point on, I have had a passion to immerse myself in apologetics so that, in turn, I can help others prepare in making a defense for the hope that is within them. As a result of my pursuit of apologetics, I sought out a college that would provide a rigorous academic program in Philosophy so that I would learn the material well, but I also needed an environment that would approach academics with a healthy, Christ-centered perspective. And by "Christ-centered," I do not mean a college that brainwashes its students into supporting Christianity, but one that has Christ at its center in every way while dealing with these worldviews with honesty and academic integrity.
Elijah: During my second year at COTH, I had this realization that I was surrounded by a wealth of opportunity. And that I needed to do everything in my power to take advantage of it! I've carried over a similar kind of paradigm in college. I recognize that Christian colleges are not for everyone, nor should they be. But, COTH showed me that I really valued an encouraging, Christ-centered community of peers. You can find that at a number of Christian colleges, but as for me, I was essentially introduced to the college I'm presently attending by a professor who gave a series of lectures at COTH. So you could say that COTH was pivotal to my college decision!
Q: Why is City on the Hill worth taking a week in the summer to come to?
Elliot: It could change your life. A career in politics is not for everyone, but even if you have no interest in politics, apologetics, or the legislative process at the moment, I would encourage anyone to step out of their comfort zone for just a week. You will grow in ways you did not expect, and, I should hope, you will find out more about yourself than you thought possible. You'll see yourself, the world around you, and, most importantly, God in a new light.
Elijah: I can't avoid the cliché: It's a life-altering experience. I challenge anyone to attend the conference and not come away powerfully affected. Whether it's a boost of confidence in public presentation, greater awareness of Christianity's defense, or — more valuable yet — a higher understanding of your role in Christ's kingdom, you'll walk away edified. And, as far as it goes, making life-long friends isn't too bad a deal, either!
Apply for City on the Hill online or contact Pennsylvania Family Institute at 717-545-0600.
What other students have said of City on the Hill
"An amazing experience that left me feeling fully equipped to be a 'city on a hill' in my home, my community, my country, and my world."
"City on the Hill was one of the most amazing experiences of my life. I have to admit I was pretty nervous about it at first, but I am so happy I went. I learned a ton about government, grew immensely in my Christian faith, and made some truly wonderful friends. I absolutely loved every minute of it." – Autumn
"The speakers were amazing. The staff were inspiring. And all my fellow senators were the best. I honestly didn't think it could possibly be better than last year, but I was so wrong, and I am already so eager to find out what God has in store for all of us." – Joanie
"It was absolutely amazing and totally different than I had ever expected. I came to COTH being pretty nervous and not sure of what to expect, but it was one of the most incredible experiences of my life; not only did I learn how to better stand up for what I believe, but I also make life-long friendships and grew a lot closer to God as well."
"This year was incredible! I've never seen God move in such amazing ways!"
"It's a life changing experience. What I learned here, the friends I've made…God truly worked in my life this week. I always look forward to COTH and would recommend it to anyone. You don't necessarily have to be interested in politics. You gain so much more than that."
"In one week, your life will completely change. You will grow in your faith, confidence and knowledge and make amazing friendships that will last. Once you attend, you will never be the same."