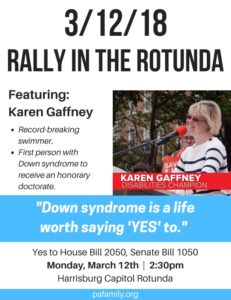 New legislation, House Bill 2050 & Senate Bill 1050, would improve Pennsylvania by prohibiting by law an abortion of any child solely due to a diagnosis of possible Down syndrome. A critical action at this stage for the legislation is showing our support by attending the upcoming rally.
Along with the lead sponsors – Speaker of the House Mike Turzai, State Representative Judy Ward, State Senator Scott Martin – help us show our elected officials that Pennsylvania is behind this effort.
Join arm-in-arm with other advocates by attending in-person.
Hear from Karen Gaffney, world-renowned champion for disability rights. For more on Karen Gaffney, click here.
If you plan on attending, contact Dan at dbart@pafamily.org or RSVP on Facebook.