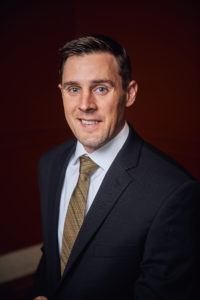 Jeremy Samek serves as Senior Counsel with Pennsylvania Family Institute and the Independence Law Center, where he plays an integral role on the legal and legislative policy teams.  Since joining the staff in May 2015, Samek's legal efforts have focused on the protection of religious liberty, protecting human life, strengthening the family, and the elimination of sex trafficking. Samek believes that religious liberty is the cornerstone of all freedoms.
Prior to joining, he gave lectures on religious liberty issues, counseled non-profit and religious institutions, and worked pro bono on religious liberty cases in Federal District Court and the United States Supreme Court while he was an attorney at Eckert Seamans Cherin & Mellott, LLC in Pittsburgh, Pennsylvania. Aside from pro bono religious liberty work, Jeremy represented clients in federal and state courts in commercial litigation, consumer protection, OSHA, US Customs, and product liability disputes.
Jeremy was also a Staff Sergeant in the United States Air Force Reserve, working in the Air Transportation Logistics field.  In 2005, he was deployed to Kuwait in support of Operation Iraqi Freedom and, in 2006, he was deployed to Kyrgyzstan in support of Operation Enduring Freedom.
He is the vice-president of the Western Pennsylvania Christian Legal Society chapter, a member of the Pennsylvania Bar Association Civil and Equal Rights Committee, and an elected public school board member at a Western Pennsylvania school district.
Jeremy received his J.D. from the University of Pittsburgh School of Law in 2006, where he served as an articles editor for the University of Pittsburgh Law Review.  He earned his B.A. from Liberty University, magna cum laude in 2003.  He received the Liberty Debate Team Distinguished Alumni Award in 2012.
Jeremy and his wife have five children.
Admissions: U.S. Supreme Court, U.S. Court of Appeals for the Federal Circuit, US Court of Appeals for the Third Circuit, U.S. District Courts for the Western, Middle, and Eastern Districts of Pennsylvania, Court of International Trade, Pennsylvania.