President Donald Trump has just announced new rules to the Title X ("10") Family Planning Program under a "Protect Life Rule" that will redirect our taxdollars away from any abortion centers like Planned Parenthood and sent to those providing comprehensive women's health care not fueled by abortion services. This will not cut any current funding but will make sure the funding goes to those providing health care services, not abortion.
What is Title X?
The federal government uses your taxdollars in part to fund family planning services through the Family Planning Program called Title X. The funding is to cover family planning and other preventive health services like breast and cervical cancer screenings. This program can also be used to cover advertising to recruit clients, staff salaries as well as subsidizing rent, utilities and technology such as computers.
Passed in 1970, Congress explicitly banned funding for abortion in Title X, stating, "None of the funds appropriated under this title shall be used in programs where abortion is a method of family planning." In 1988, President Ronald Reagan even put regulations in place stating, "Title X programs may not promote, counsel, or refer clients for abortion or co-locate or combine family planning services with abortion activities." It went further to require "not only complete financial separation, but also physical separation of abortion activities from Title X services sites and separate personnel." The US Supreme Court ruled to uphold President Reagan's regulations in 1991. All of this changed under President Bill Clinton, who reversed this policy to allow Title X funding to those providing abortion services.
A major recipient of Title X funding is the largest abortion provider in the nation – Planned Parenthood, given $60 million annually in taxdollars through the program.
What has Pennsylvania's return on "investment" been with taxdollars to Planned Parenthood?
For decades, Pennsylvania taxpayers have been forced to fund Planned Parenthood with millions of our taxdollars under Title X. Here in Pennsylvania, this is what our "investment" has led to with Planned Parenthood:
Decline in preventive health services. STD testing is down 52,000 (2014-2016). Cervical cancer screenings down 3,000 (2014-2015).
Zero mammograms.
Zero prenatal care. Not one woman has been helped with prenatal services, despite their previous false advertising of such services until we called them out on it.
Zero adoption services and no mention of adoption referrals in annual reports.
15,000+ abortions every year. That's half of the abortions in Pennsylvania.
Abortion is not family planning.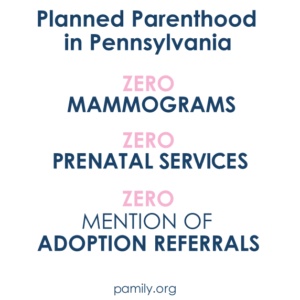 Your taxdollars designated for family planning services should go to help women access comprehensive preventative and primary care. Hundreds of community health centers throughout Pennsylvania serve 800,000 patients every year, offering comprehensive health care. Planned Parenthood offers only limited services beyond their profitable abortion services at their 25 locations in Pennsylvania.
Reinstating the previous policy regulations is long overdue. No taxpayer should have to send their taxdollars to abortion centers.
Pennsylvania Family Council praises HHS Secretary Alex Azar and President Trump's administration for reinstating Title X regulations and investing in comprehensive women's health care versus abortion.