On Monday, March 12th, Pennsylvania officials, advocates and families will rally in the Harrisburg Capitol Rotunda in support of new state legislation that would help protect children with a prenatal diagnosis of Down syndrome.
A special guest for this rally is Karen Gaffney, a world-renowned champion for disability rights.
Karen Gaffney: Athlete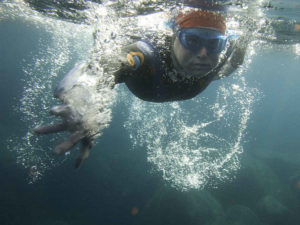 Karen Gaffney is a long-distance swimmer. As part of a relay team, Gaffney became the first people with Down syndrome to swim the English Channel. She's swam a leg in the Escape from Alcatraz triathlon and covered all nine miles across Lake Tahoe (taking 6 ½ hours in 59 degree weather) to raise money for the National Down Syndrome Congress.
She's also a two-time gold medalist for long-distance swimming in the Special Olympics.
Karen Gaffney: Doctor
Gaffney's parents were told she would never tie her own shoes. Choosing against institutionalizing their daughter, which was common practice at the time for infants with Down syndrome, her parents gave her a chance to excel.
Through early intervention, tutoring and dedication, Gaffney participated fully in regular classrooms settings through grade school. After high school graduation, she went to college, graduating with an Associate Degree of Science from Portland Community College.
In 2013, Karen Gaffney received an honorary Doctor of Humane Letters degree from the University of Portland for her efforts to raise awareness of the abilities of people who have Down syndrome (another first for someone with Down syndrome).
"No one in our time has been as eloquent and articulate – in word and deed – about what men, women and children with Down syndrome can do." – Dr. Tom Greene, Provost for the University of Portland in presenting the honorary doctorate to Karen Gaffney.
Karen Gaffney: Life-Saver
People around the world are changing the way they view Down syndrome because of Karen Gaffney, including her 5th grade teacher.
In her first year teaching and admittedly not knowing much about people with Down syndrome, this teacher was given a first-hand experience of seeing someone with Down syndrome excel in her classroom. Later in life, this teacher contacted Gaffney for advice, as she was pregnant and had just received a prenatal diagnosis of Down syndrome. This teacher pushed back against discussions with her doctor of termination because of her experience with Gaffney.
"She needed my help because her baby would be born with Down syndrome," explained Gaffney. "The diagnosis came very early in her pregnancy. She pushed back on any discussion of termination because she knew Down syndrome from a completely different perspective than her doctor did. She taught him about one of her fifth-grade students. Me."
Gaffney has become a worldwide speaker and the president of her own non-profit organization, which is dedicated to championing the journey to full inclusion in families, schools, the workplace and the community for people with developmental disabilities.
Is there a tomorrow for people with Down syndrome in Pennsylvania?
New legislation in PA – House Bill 2050 & Senate Bill 1050 – would prohibit the abortion of any child solely due to a diagnosis of possible Down syndrome. Studies show anywhere from 60% – 90% of babies given a prenatal diagnosis of Down syndrome are aborted. We have families right here in Pennsylvania that had medical professionals pressure them into having an abortion when given this diagnosis. And there are some who continue to hold to a medieval and harmful viewpoint of Down syndrome, like a columnist from Philadelphia who recently labeled babies with Down syndrome a "horror."
We need to tell our elected officials that we must show respect to individuals and children with Down syndrome by protecting them when given this diagnosis.
3 Ways You Can Help
Join Karen Gaffney along with advocates, families and elected officials in Harrisburg for a rally in support of this new legislation on Monday, March 12th at 2:30pm in Harrisburg: Click here for details.
Tell your elected officials to co-sponsor HB2050/SB1050 – to contact by email: tinyurl.com/ValueAll
Enter the "What I Bring to My Community" photo series (deadline: Monday, March 5th): pafamily.org/photo
"Imagine that here we are reversing the damage caused by institutions, removing barriers to education, making inroads into a full and inclusive life for people like me, and still we have those who say we shouldn't even be born at all." – Karen Gaffney