Governor Wolf has decided to allow an education bill to become law, without his signature, that expands Pennsylvania's successful tax-saving program that helps families find the best school for their children.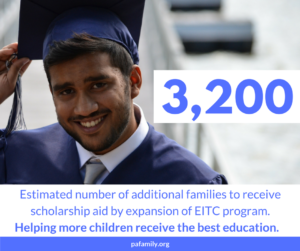 Each year, the Educational Improvement Tax Credit (EITC) program helps over 40,000 families receive a scholarship that permits parents to send their children to the school that best meets their needs.
Part of the state budget package, the PA General Assembly passed a $10 million expansion of the EITC program (8% increase), which is estimated to serve more than 3,000 additional families.
An audit found that the EITC program has saved taxpayers over $1.3 billion. In total, the EITC program (along with the more recent Opportunity Scholarship Tax Credit program) has provided over 500,000 scholarships to Pennsylvania families.
Pennsylvania Family Institute is one of 196 scholarship organizations, running the Family Choice Scholarship Program (myfamilychoice.org), which has helped to provide 4,000 scholarships to families across the state.