There are several reasons why the Reading School District should reject a current proposal that would invite Planned Parenthood to operate directly in the high school.
1) Taxpayers should not fund Planned Parenthood's political activism.
Here is a photo used in a presentation given to Reading School Board members by two groups – Access Matters and Planned Parenthood Keystone – of what a "health center" would look like in the school staffed by Planned Parenthood: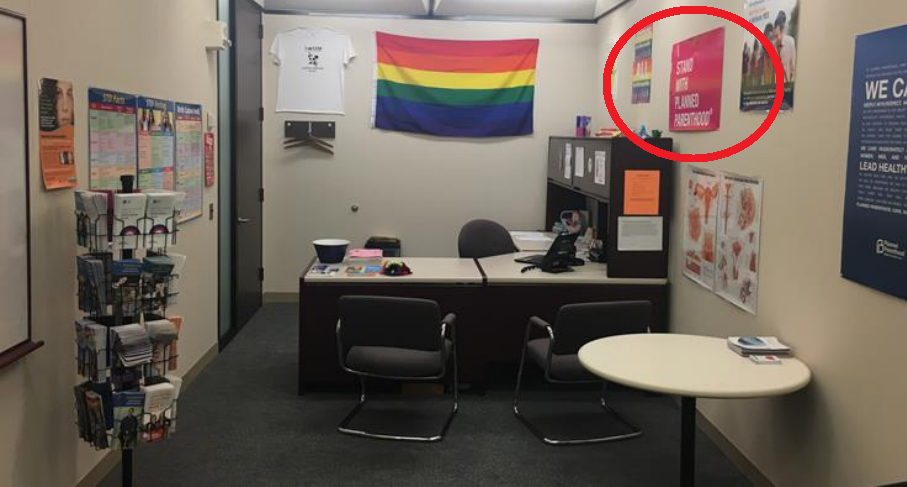 Highlighted on the wall is Planned Parenthood's political poster – "I Stand with Planned Parenthood" – their message used to push their pro-abortion political agenda. Here in PA, that's a message to stand with an organization that provides no prenatal care, no mammograms, declining basic health services yet increasing numbers of abortions (over half of all statewide abortions) and over $30 million spent in the 2016 elections, "the most money it ever spent in an election and double what it spent in the last cycle."
This proposed health center for Reading High School would be funded by the Pennsylvania Department of Health – i.e. taxpayers. This political activism has no place in our schools and should never be paid for with taxpayer funding.
2) No evidence has been presented that this will help students in Reading.
Nothing in Access Matters/Planned Parenthood's presentation indicated their "health centers" have meaningful outcomes.
When this lack of evidence was pointed out, board member Robin Costenbader-Jacobson responded by saying that not all sharing of knowledge is measurable and that "children being prepared to make any decision based on information and knowledge is invaluable." That's dangerous advice.
"Parents should require hard evidence that programs such as these are effective to produce desired healthy outcomes," says Amy Scheuring, Executive Director for Women's Choice Network in Pittsburgh and who is involved in a program teaching sex education. "We use the REAL Essentials program. It has a proven track record which relies on broad national studies and hard evidence to teach risk avoidance. Each of our classrooms utilizes a pre and post test to measure responses and changed behaviors."
To suggest a program is "invaluable" without any data to back it up is putting ideology or an agenda over the best interests of all students.
In addition, there is data suggesting that these new centers are not effective. Take the city of Chester. Access Matters started Health Resources Centers in Chester in 2009. In 2010, the rate of teen births for Chester city was 44 births per 1000 women ages 15-19. In 2015, the teen birth rate has actually increased to 48.
3) Extreme conflict of interest by Reading Planned Parenthood.
Abortion is a significant source of revenue for Planned Parenthood Reading. According to reports from the PA Department of Health, between 2013 and 2015, Planned Parenthood Reading performed an average of 900 abortions each year; two miles away from the high school. They charge between $450 and $540 depending on the procedure; meaning this one location is making over $400,000 every year from abortions alone.
However, in 2016, abortions dropped to 599; a 28% decrease from the prior year. Could Planned Parenthood want access inside Reading schools to boost their profits from abortion?
Also, not only does Planned Parenthood Reading not offer prenatal care, they also offer no adoption services. Even phone calls asking about adoption referrals were declined – they replied that they don't even offer adoption referrals.
This is simply a conflict of interest: under this proposal, school staff in charge of providing sex education would also be the financial benefactor of when that education fails. And for pregnant teens in Reading, the only option Planned Parenthood can help with is abortion. Wouldn't this influence their counseling and education?
Planned Parenthood – Tell us why you are here.
The motto for Reading Senior High School is, "tell me why you are here."
Planned Parenthood is the largest abortion provider in Pennsylvania. Their Reading facility, just two miles away from the high school, was the state's 9th highest abortion location in 2015.
Planned Parenthood has told the Reading School Board why they are here. They had no objection to advertising their pro-abortion organization in Reading High School. They offered no data as to why their proposal will work. And they failed to mention how they are the largest abortion provider in the state, profiting from hundreds of abortions in Reading every year.
It should therefore be no surprise that many in the Reading community object to this proposal.
TAKE ACTION
Tell the Reading board members to reject this current proposal – click here to email each member today or go to tinyurl.com/ProtectReadingHS