According to voter registration and estimated population totals, 34% of Pennsylvanians are currently not registered to vote.
Last Presidential election, comparing those registered to vote with the total ballots cast for President, 32.5% of Pennsylvania registered voters did not vote.
Be a part of increasing voter participation by taking part in our Don't Stay Home campaign this election.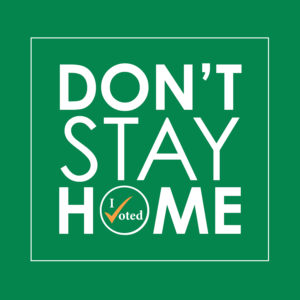 The goals of Don't Stay Home is to encourage 1) voter registration, 2) voter education and 3) voter turnout.
1) Voter Registration
In order to vote, you must be registered first! The deadline to be eligible to vote this election is Tuesday, October 11th. Click here to register online or click here to download the printable form (must be postmarked to county election office by October 11th).
2) Voter Education
There is more to this election than the Presidential Election! Help us spread our guide using PaFamilyVoter.com or by placing an order for printed guides.
3) Voter Turnout
Your vote matters! Every election, several races are decide by a small fraction of votes. If you need to identify your polling location, click here.
---
PaFamilyVoter.com is a non-partisan, church-friendly source for you, your family, and your friends who care about the direction of Pennsylvania's law and culture. It's based on candidates' signed responses to our questionnaire, sitting lawmakers' voting records, or a candidate's public statements, campaign materials and other credible sources.