A Catholic Men's Ministry Stands Up to Sexually Oriented Businesses
By: Bruce Barron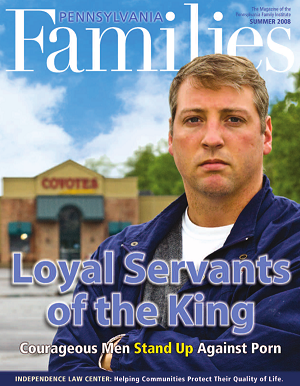 Mark Houck has spent a lot of time warning about the dangers of sexually oriented businesses in the last few years. So when one such enterprise showed up virtually on his doorstep, he couldn't remain silent.
As a result, the unfortunate emergence of a strip club in Quakertown, Bucks County, has had one silver lining: It has brought positive attention to an organization that has a powerful impact on men's personal and spiritual development.
The organization is The King's Men (www.thekingsmen.us), founded by Houck and Catholic high school teacher Damian Wargo in 2006. It was born out of Houck's dismay, during his four years with the pro-life and pro-chastity group Generation Life, over the relative lack of male leadership in the pro-life movement.
"When I would speak to pro-life groups in school settings," Houck explained, "I saw that there weren't many men plugged into these groups. I thought men should be leading the charge for chastity. After six months of prayer and many sign-posts from God, we decided to launch The King's Men as a full-time ministry, with the primary focus of building up men."
Houck gives presentations on chastity and masculine spirituality throughout southeastern Pennsylvania and does a one-hour radio program twice a month.
The King's Men also lead four weekly spiritual formation groups at their Quakertown office and around the Philadelphia area, offering a level of rigor and accountability reminiscent of John Wesley's famous small groups.
Following devotional study, the groups engage their members in discussion anchored by four C's: confess sins, commit to specific change, challenge each other in areas of weakness, and confirm each other's gifts and growth.
Houck also has led peaceful demonstrations at adult businesses to highlight the negative impact such enterprises have on their surrounding communities and especially on the men drawn to patronize them.
His fearless efforts grabbed the attention of Brian McCarthy, now an active participant in the ministry, whose first experience of Houck was "driving by Adult World in Montgomery County and seeing this guy in front of the store holding a sign."
The "No More Porn Tour" demonstrations held by The King's Men are designed to raise public awareness about pornography and to "influence men and women to reconsider patronizing this place today and in the future."
McCarthy said he has personally observed the positive results: "We've seen many men, who know [patronizing adult businesses] is wrong but are suffering from addiction to pornography, turn away. At one of these businesses, the owner has admitted that he loses money on the days when we're out there."
Protecting the home turf
So Houck knew he had to respond when a struggling Quakertown restaurant closed for renovations, boarded up its windows, and began bringing in what observers suspected were stripping poles.
Sure enough, the restaurant reopened in December 2007 as Coyotes Show Club and promptly filed a lawsuit against Milford Township, claiming the right to operate a sexually oriented business under its existing restaurant license.
Milford Township persuaded Coyotes to delay the lawsuit while it attempted to develop conditions under which the club could be awarded a license.
At the first public hearing, in February, The King's Men showed up in force with protest signs, generating local media coverage. The local ministerium, representing 28 churches, joined the opposition.
Houck also brought in outside firepower, securing the legal services of Pat Trueman, an expert on sexually oriented businesses who headed the U.S. Justice Department's Child Exploitation and Obscenity Section in the Reagan and George H.W. Bush administrations.
The legal environment
The move sounded rather unusual — a strip club opening without a permit and immediately suing the township for the right to operate. But despite that unusual twist, Trueman said, the Coyotes story is fairly typical.
"Basically what happened was that a strip club opened without much notice, and the people don't want it in their community," Trueman explained.
"But the Supreme Court has ruled that you can't keep these businesses out of your town. You can only limit them to a particular area and regulate them," he said.
Zoning Lesson No. 1: If your community doesn't have an ordinance confining sexually oriented businesses to the warehouse district, it should.
As Trueman advises clients in his primer on zoning at www.pattrueman.org: "The frequent refrain of public officials, 'We never thought they'd come here,' should not be heard in your community. If sex businesses have not arrived in your community yet, the risk is that they will. To preserve its character, health and values, the community should be proactive rather than reactive."
Milford Township clearly doesn't want this business in its community — residents gave Trueman a rousing ovation after he testified at the second hearing on Coyotes, explaining how sexually oriented businesses damage a community.
"People's standard of living is at risk in any city that has a sexually oriented business," Trueman asserted.
"Violence, sex crimes and prostitution go up, and home values go down. The Supreme Court has said you can't beat these businesses out of your town, but you can keep them away from homes, schools, libraries and parks.
"You can also set controls on how they run their business. You can prohibit sexual touching, limit the number of hours they can be open and require background checks on all performers.
"Then you can conduct regular inspections of these businesses and come down harshly on violations. Ultimately they will say they can't survive in this town."
Trueman appreciates the tough conditions Milford Township is placing on Coyotes but is disappointed that the township plans to rely on the State Police to investigate complaints.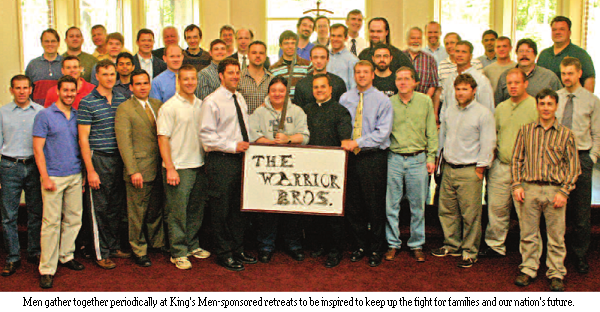 Nurturing leaders, protectors and providers
While standing up against sex businesses that distort the meaning of manhood and womanhood, Houck and Wargo are also molding positive masculinity every day, teaching men what the role of "leader, protector and provider" means. Their accountability groups provide an ideal setting for men to grow.
"We pray together and discuss literature on masculinity," Wargo said, "but then the accountability period is where the action takes place.
"Guys get real as they talk about what is keeping them from the Lord."
The ministry has had a powerful healing effect on its leader too.
Houck said he experienced "father wounds" related to losing his own father at age 11.
"So many men haven't been mentored because of the death or absence of their own father," he explained. "Teaching them to be leaders through faith and activism builds me up too."
Houck, 33, has just started modeling the role of husband — he and wife Ryan-Marie were married April 25th.
The King's Men has also ministered to men facing another struggle: SSA, or same-sex addiction.
Houck got local media attention a few years ago when, as an alumnus, he publicly criticized his Catholic high school's decision to let several boys bring same-gender dates to the prom. (That practice has since been rescinded.)
"We've had people with same-sex addiction come to our groups," Houck said. "I told one man, 'You are not homosexual, and don't ever label yourself that way.' Once you label yourself, it's easy to fall into that lifestyle and say you're an addict. Maybe you are an addict, but that doesn't give you license to engage in something."
No more lazy guys
Patrick McCabe sees the impact of The King's Men from two perspectives: as an active member of its "apostolate" (which is mostly Catholic, but does include some Protestant men) and as program director of the Doylestown radio station where Houck's program airs.
"When he proposed his program," McCabe said, "we had nothing that dealt specifically with men's spirituality, so I brought it to our general manager as something to add. We've been very pleased with it. Mark always reaches out in love, not condemning, and people feel safe calling for help."
McCabe decided to check out a King's Men small group and was impressed there too.
"The group challenges me to actually live out my spiritual life," McCabe said. "Meeting with guys on a weekly basis develops personal relationships where we can check in with each other."
While The King's Men is noticed mainly for its activism, McCabe sees the spiritual formation activities as equally important.
"On TV comedies the father is always the dunce or the lazy guy sitting on the couch with a beer. Rarely do you see fathers solving problems or being good parents. It can be funny, but its very unhealthy. What I get from The King's Men is the exact opposite.
"There's very little respect for what a man's role should be, and men have become emasculated to the point where they're afraid, even within their family, to step up. Our wives and children will appreciate us being leaders."
Teaching married men what it means to love their wives as Christ loved the church is a big part of the educational message.
McCarthy said, "When I come home from work I know I'm coming to my second job — to bathe the kids, straighten up the house, and serve my wife, not to be served."
Houck and Wargo speak in humble, unassuming tones about their work. But McCarthy has observed that the integrity they exhibit when battling strip clubs or decrying pornography also appears when the public isn't watching.
"I was a guest on Mark's program," McCarthy recalled, "and when we were driving back, on the side of the road was a woman with a blown-out tire. Mark pulled over, and we changed the tire for her. It turned out that she was a fairly broken woman; we urged her to keep the faith and said we'd pray for her.
"You know there's something behind those convictions when a man pulls over with cars flying by to help a lady in need."
Houck admits some uncertainty as to whether he will be able to remain full-time director of a fledgling nonprofit ministry and support a new wife too.
We hope he can, because our society can use a few more King's Men.
Bruce Barron is a former congressional aide and Pennsylvania Family Institute staff associate from suburban Pittsburgh.