We invite you to join PA Family Institute President Michael Geer, Chief Counsel Randall Wenger and special guest Jeff Coleman, Founder & Principal of Churchill Media, for an exclusive breakfast briefing Wednesday morning, March 8th.
Jeff Coleman is a longtime friend of the PA Family Institute and will talk about his new book, With All Due Respect, which encapsulates a better way to engage with others on issues that really matter, rather than the contentious, polarizing examples we increasingly see all around us. Also, Randy and I will show how these principles are proving effective in our pro-family work here in Harrisburg and across the state.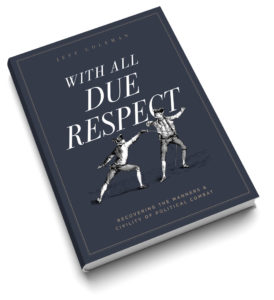 BONUS: We'll have a complimentary copy of Jeff's book for you at the breakfast as well, which he'll be glad to autograph for you.
LOCATION: Shady Maple Smorgasbord, 129 Toddy Dr, East Earl, PA 17519
TIME: 7:30am – 8:45am
Space is limited. Breakfast is complimentary.
REGISTER: Click here to reserve your spot(s) or call 717-545-0600.
Here's more about Jeff's new book: