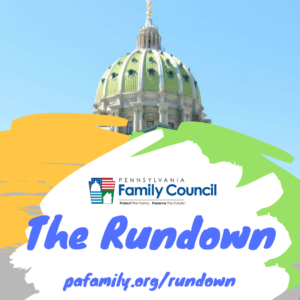 The Rundown is a list of some of the current proposed legislation that Pennsylvania Family Council is advocating for or against as it relates to strengthening families in Pennsylvania.
SB3 / HB77 – Updating Outdated Abortion Limit, Procedures
Description: Pennsylvania continues an abortion limit set up in the 1980s that permits abortion as far as six months into pregnancy (24 weeks). SB3/HB77 would update this limit to the first five months of pregnancy (20 weeks), which now 21 states have already done, as well as end the barbaric practice of dismemberment abortions. Learn more.
Status: Senate passed SB3, 32-18 vote. Next: PA House.
Council: Support
Take Action: Use our Citizen Action Center – Yes on SB3 / HB77.
---
SB300 – Prioritizing Government Funding for Family Planning Services
Description: Would prioritize current taxpayer dollars to first be directed to the many community health centers that offer better comprehensive women's health care compared to those offering limited services like Planned Parenthood. (Women can't even get prenatal care at a Planned Parenthood in Pennsylvania.) Learn more.
Status: Senate Finance Committee passed SB300, 7-5 vote. Next: Full Senate consideration.
Council: Support
Take Action: Use our Citizen Action Center – Yes on SB300.
---
SB613 / HB1410 – The "Fairness" Act / Bathroom Bill
Description: Would add the special status of "sexual orientation" and "gender identity" into anti-discrimination law that covers housing, employment and public accommodations. This would force Pennsylvanians to participate in events they disagree with, jeopardize churches, private ministries and charities as well as remove privacy rights from students. Learn more: pafamily.org/unfairness // defendmyprivacy.org
Status: Senate Bill 613 was introduced for consideration by the Senate State Government Committee; no debate or vote scheduled thus far. HB1410 was just introduced.
Council: Oppose
Take Action:
---
Redefining Sex Discrimination – PA Human Relations Commission
Description: Unelected and appointed by the governor, the nine members of the Pennsylvania Human Relations Commission (PHRC) are trying to redefine state law. The PHRC is effectively attempting to redefine "sex" discrimination to include "sexual orientation" and "gender identity or expression," broad-ranging phrases with imprecise definitions that would spur expensive lawsuits and undermine our freedom and privacy rights. This would be an end-around the legislature to advance this harmful agenda.
Status: PHRC is processing all the public comments (deadline was May 26) and no announcement has been made as to when they may vote on their proposed changes.
Council: Oppose
---
Gambling Expansion
Description: State officials in Harrisburg are considering the addition of state-sponsored video gambling – considered the "crack-cocaine of gambling" – in local businesses throughout Pennsylvania, many that focus on the sale of alcohol. Learn more.
Status: Part of budget talks or in a yet-to-be introduced Senate bill.
Council: Oppose
Take Action: Tell your State Senator and State Representative to oppose any expansion of gambling.
---
SB238 – Physician-Assisted Suicide
Description: Introduced as so-called a "Death with Dignity" bill, legislation would allow a person to commit suicide with the assistance of a physician. It is modeled after an Oregon law, which has has resulted in one of the nation's largest rates of usage by patients. We agree with the experts, including disability rights advocates, who say that the overwhelming number of vulnerable patients could benefit by proper palliative care rather then by choosing to end their lives. Physicians should be trusted for healing and care, not assisting in death by suicide.
Status: SB238 was introduced to Senate Judiciary Committee.
Council: Oppose
Take Action: Contact your State Senator and ask them to oppose SB238.
---
HB250 – School Choice Expansion
Description: Would increase the available tax credits significantly – a $50 million increase to the EITC program and a $25 million increase to the OSTC program. (This $75 million increase is compared to the nearly $6 billion proposed funding for basic education.) Pennsylvania's landmark programs, the Education Improvement Tax Credit (EITC) and Opportunity Scholarship Tax Credit (OSTC), have helped parents make the best choice for their children's education. Under the program, which PA Family Institute's Family Choice Scholarship Program is a part of, businesses are allowed to direct some of their tax dollars as a credit to be used as scholarships for families to help send their children to the schools of their choice. Learn more.
Status: House passed HB250 with 73% bipartisan vote. Next: In budget talks.
Council: Support
Take Action: Contact your State Senator and ask for support of HB250 and expanding the EITC tax credit program in any state budget that is passed.
---
SB88 – Freedom to Display Historical Documents with Religious References
Description: Would allow documents or portions of documents such as the Declaration of Independence, the Constitutions of Pennsylvania and the United States; Acts of the Pennsylvania General Assembly and of the United States Congress, etc. to be used, read or posted in their entirety regardless of whether such documents contain religious references. The proposal prohibits censorship of an American or Pennsylvania historical document based on any religious content.
Status: Senate Education Committee passed unanimously SB88, 12-0 vote. Next: Full Senate consideration.
Council: Support
Take Action: Contact your State Senator and ask for their support of SB88.
---
Pennsylvania Family Council is a leading advocate for families in Harrisburg only because of the financial partnerships we have with families across the state. To grow this advocacy, click here to make a secure online donation.