Administrative Assistant
Pennsylvania Family Institute is seeking an Administrative Assistant to work with the Church Ambassador Network, as well as the broad PA Family organization. This position is full-time in our Harrisburg office. The primary purpose of this position is to increase the capacity of the Director of the Church Ambassador Network/Strategic Partnerships, and to act as the liaison, on behalf of the Director, to pastors and constituents. A likely candidate must possess the ability to respond effectively and efficiently to challenges and opportunities with professional poise and demeanor and to represent the organization well. With a keen awareness of expectations and the ability to initiate and lead relevant processes and procedures, they will anticipate the needs of the Director, both immediate and long-term, and take decisive action. If interested, please contact Emily Kreps at ekreps@pafamily.org or call our office at (717) 545-0600. 
---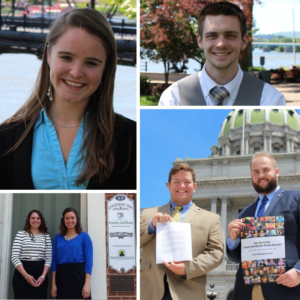 Internships
The Pennsylvania Family Institute is actively recruiting college-student interns for Spring 2022 and Summer 2022 in our downtown Harrisburg offices, two blocks from the state capitol.
The program provides students the opportunity to gain first-hand experience in nonprofit government relations and participate in the daily operations of a policy organization. Interns will become familiar with the intricacies of the Pennsylvania legislative process and the philosophy behind and methodology of implementing pro-family public policies by working side-by-side with PFI's policy staff. These internships are paid.
Interns will experience some of the legislative process as we work with the state legislature to promote family-friendly policy (depending on how long the legislative session continues into the summer). Preparation and staffing for the City on the Hill Youth Leadership Conference – July 17-23, 2022 will also be a major part of the summer internship program. Other projects will include research, writing, and grassroots mobilization.
Interns may also have an opportunity to assist with legal research, and education, with the attorneys at our Independence Law Center (ILC). ILC is a public-interest law firm that works to preserve religious liberty, promote marriage and the family, and protect human life.
Pennsylvania Family Institute is a non-profit research and education organization that focuses on cultural trends and public policies that impact families. Founded in 1989, its mission is to strengthen families by restoring to public life the traditional, foundational principles essential for the well being of society. PFI is governed and supported by individuals and businesses across Pennsylvania.
Interested students should forward a resume and pre-interview letter, or direct questions to: Emily Kreps, Internship Coordinator: E-mail: ekreps@pafamily.org; phone (717) 545-0600.